Ulster Bank customers claim money missing from accounts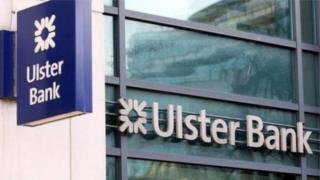 Ulster Bank is blaming 'human error' for a glitch affecting customer accounts in the Republic of Ireland.
The bank has offered emergency cash to customers who say that money has gone missing from their accounts.
Hundreds of complaints have been posted on social media with some customers claiming that their salaries had "disappeared".
No-one in Northern Ireland has been affected, the bank said on Tuesday.
The bank, the Irish unit of RBS, said some customer transactions made since Friday were not showing on accounts.
It came as the boss of TSB - owned by Spain's Banco Sabadell - apologised for an IT fiasco that has seen customers locked out of their accounts and unable to make payments for four days.
"We are investigating this issue as a matter of urgency and apologise for any inconvenience caused," said an Ulster Bank statement.
"No customer will be left out of pocket as a result of this issue. Emergency cash is available in branch or via telephone."
However, a later statement made clear the cause of the problem: "As a result of human error, a payment file did not process last night, which means that some transactions applied to some customers accounts since 20 April are temporarily not showing.
"We investigated this issue as a matter of urgency and have already taken the necessary corrective action which will see recovery actions overnight."
Customers in the Republic of Ireland said their cards had been declined and some said they had been left with insufficient funds to cover direct debits.
The bank said emergency cash of 500 euros (£437) per customer affected would be available.
In 2012, a computer failure left thousands of customers in Northern Ireland and the Republic of Ireland without funds.
May were unable to withdraw cash or access their accounts after a software upgrade on 19 June. The computer failure affected the entire Royal Bank of Scotland (RBS) group, but Ulster Bank took longest to resolve the issue.
Ten weeks after the initial problem, the bank was still warning some customers that their statements might not be correct.