Garda Tony Golden inquest: Officer 'shot five times'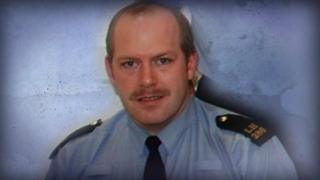 An Irish police officer was shot five times by a man from Northern Ireland as he tried to help a victim of domestic violence, an inquest has heard.
Garda Tony Golden was killed by County Down man Adrian Crevan Mackin in Omeath, County Louth, in October 2015.
A pathologist told the inquest the officer sustained four bullet wounds while facing the gunman, but the fatal gunshot was through his back.
The garda was helping Mackin's partner collect belongings from their house.
Siobhán Phillips, the mother of Mackin's children, was also shot in the attack and was left blinded in one eye.
She had earlier given a statement to Garda Golden about the violent abuse to which Mackin had subjected her.
The 24-year-old gunman, who had previously lived at various addresses around Newry, County Down, then killed himself.
The inquest opened in Dundalk courthouse in County Louth on Monday morning.
'Strangled and cut'
Evidence from Ms Phillips, read in court, outlined how Mackin had subjected her to a prolonged period of violent abuse two nights before the murder.
She said her partner strangled her, cut her with a knife, punched her and kneed her in the ribs during sporadic attacks over a 14-hour period.
The court heard after a night of abuse, Mackin told Ms Phillips to put on make-up and go to work.
She told her family about the attack, before going to a Garda station, where she was advised to seek medical attention.
Her father, Sean Philips, who is also a witness in the case, told the inquest he was "agitated" because officers did not take her statement at that time.
The following day, the Philips family made contact with Garda Golden, who did take a statement from Ms Philips and told her she should not be intimidated.
The officer suggested he would accompany Ms Phillips to the couple's home at Mullach Alainn, Omeath, to collect her belongings.
Mr Philips stayed in a car outside while his daughter entered the house with the officer.
'Monster'
He described hearing three bangs about a minute after they had gone inside, and then three more.
Mr Philips said he would not have gone to the house if he had known Mackin had access to guns.
The gunman was on bail at the time of the murder, after he admitted importing component parts for six guns in January 2015.
Mr Philips told the court: "Mackin was a monster and we want to know why he was out of jail."
The inquest also heard from the gunman's sister, Sinead Hynes, who said he had been a difficult child who displayed abnormal behaviour.
She described how he began breaking into houses as a teenager, and later moved into Simon Community accommodation after the family moved to Australia without telling him.