Tyrone's Mickey Harte fronts GAA anti-abortion group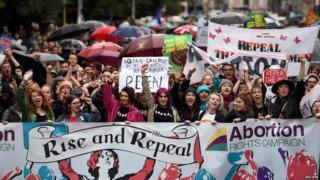 A number of prominent GAA (Gaelic Athletic Association) figures have launched a group to campaign for a no vote in the forthcoming referendum on abortion in the Republic of Ireland.
The group, GAA Athletes for a No Vote, was launched in Dublin on Saturday.
The Irish broadcaster RTÉ has reported that the GAA is to write to its county secretaries informing them that the association should have no involvement in the referendum.
The vote will be held on Friday 25 May.
Voters will decide on whether or not to repeal the Eighth Amendment of the Irish constitution which upholds Ireland's strict abortion laws.
The Tyrone manager Mickey Harte is the most well-known member of GAA Athletes for a No Vote.
Mr Harte told the Irish Times that the referendum gave voters a choice between a "culture of death or a culture of life".
Antrim footballer Patrick Gallagher and Derry camogie player Aoife Cassidy are also involved with GAA Athletes for a No Vote.
GAA Athletes for a No Vote said the Irish government's proposals are not inclusive and "seek to exclude one group of people - the unborn - from society".
It said its members "respect and cherish women" saying it believes "that as a society we have much more, so much more to offer women than the death of our children".
Other prominent Irish sports personalities have indicated that they intend to vote yes in favour of repealing the Eighth Amendment, including athlete Derval O'Rourke and former Donegal senior footballer Eamon McGee.
Mr McGee has played a prominent part in the campaign but has defended the right of his former Donegal teammate Paddy McGrath to take an opposite view:
"Many a debate we've had. Strong views on both sides and we rarely agreed but we were always respectful.
"Everybody should do their best to do the same for the next few weeks," he tweeted.
Who is Mickey Harte?
Mickey Harte is very well known in Gaelic football circles as the manager of the Tyrone senior side.
His time as manager has seen unprecedented success for the county, but also great tragedy.
The Ballygawley man has guided the senior team to three All-Ireland titles, winning its first ever Sam Maguire trophy in his debut season in 2003 - defeating Ulster rivals Armagh.
Ms O'Rourke has said on Twitter that it would be easy for her to stay quiet on the issue.
"Perhaps in some ways it's more 'brand savvy' but I won't be quiet on topics I care about and feel need support."
The launch of GAA Athletes for a No Vote was reported to have been held at the grounds of Ballyfermot GAA club in Dublin on Saturday but the club has denied this.
In a statement issued on Saturday the club said that it was unaware that the launch was taking place and that it was "in no way associated" with it, saying it only became aware of the event through press reports.
"It would be wholly inappropriate for the club to be associated with the launch as the GAA and its clubs do not become involved in political matters.
"No GAA and/or club facilities are being used for today's launch."
However the club acknowledged that a football and hurling skills coaching session was to be held "as part of of this launch" and said that the decision whether to participate in this session was a matter "for each parent/guardian to decide for their own child".
Abortion in the Republic of Ireland
The Republic of Ireland currently has a near total ban on abortion.
Terminations are not permitted in cases of rape or incest, or when there is a foetal abnormality and thousands of women travel abroad for a termination every year.
The Eighth Amendment to the Republic's constitution, introduced in 1983, "acknowledges the right to life of the unborn".
However, there have been significant challenges and changes to the law in recent years.
A campaign to liberalise abortion gathered momentum in 2012, when Indian woman Savita Halappanavar died in a Galway hospital after she was refused an abortion during a miscarriage.
The Irish taoiseach (prime minister) Leo Varardkar launched his Fine Gael party's campaign for a yes vote on Saturday.
"If the referendum is passed there will not be unrestricted abortion," he said.
He said there will be a waiting period of 72 hours, the woman will receive counselling and terminations after 12 weeks will be illegal except in specific circumstances.
Mr Varadkar said he will be voting yes because he trusts women and doctors.
In response to Mr Varardkar's remarks Cora Sherlock of the anti-abortion LoveBoth Campaign said: "The taoiseach has claimed that there will be no unrestricted abortion in Ireland if he wins the referendum, yet his legislation clearly shows that up to three months it will be lawful to carry out an abortion without reason or restriction.
"It is completely incorrect to claim that there is any provision in the law for 'counselling for reflection'.
"There is merely a 72-hour gap between certification and the termination of the pregnancy; this is not a 'restriction', it is merely a waiting period."