Ahern walks out of interview over Mahon Tribunal questions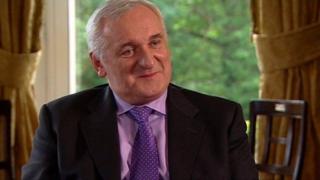 Former taoiseach (Irish prime minister) Bertie Ahern has walked out of an interview with German broadcaster DW after being questioned about the findings of the Mahon Tribunal.
The Mahon Tribunal was a report into corruption in the Republic of Ireland's planning process.
It found that Mr Ahern failed to truthfully account for a number of financial transactions.
It did not make a corruption finding against Mr Ahern.
Mr Ahern has always denied any wrongdoing and rejects the findings of the tribunal.
When asked about the issue, he told DW's Conflict Zone programme he was "quite happy he cleared his name".
"The tribunal gave its views and I gave my evidence, and I was very happy with my evidence.
"The tribunal is over.
"I've dealt with that issue and I'm not saying anymore about it."
However, interviewer Tim Sebastian continued his line of questioning around the subject.
Mr Ahern responded with: "I agreed to meet you on the Good Friday Agreement, we've done that, so we're finished, thank you very much."
He then left.
When it was suggested to him he might seek a nomination to run for president, he replied "that'll be for another day".
Speaking after the interview, Tim Sebastian said Conflict Zone had "no intention of offending him".
"This was billed as an interview about the Good Friday Agreement but we did also offer his office a list of topics that we were going to cover but they didn't come back to us.
"We hope Mr Ahern will come back to us someday and finish the interview and we wish him well," he added.
Mr Ahern resigned as taoiseach in May 2008 after 11 years in the position.
He resigned from Fianna Fáil in 2012.