What does a Trump-Macron bromance mean for the world?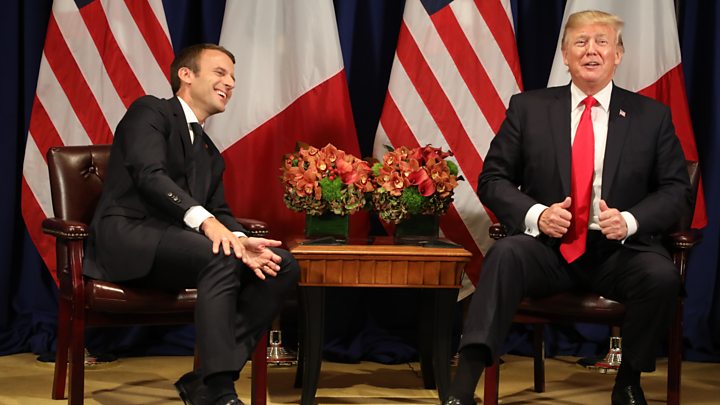 France's President Emmanuel Macron is in Washington this week, the first foreign leader to make a state visit under Donald Trump. The two men - both seen as outsiders before their presidential campaigns - have developed an unlikely personal rapport, but what's behind the connection, and what does it mean for French interests and influence?
Emmanuel Macron's relationships have raised eyebrows more than once.
Weeks after taking office, he passed over France's key allies and chose the Russian leader, Vladimir Putin, as his first foreign guest - a man he's due to visit in Moscow next month, despite recently ordering airstrikes against Russia's Syrian ally.
His ecumenical approach has sometimes caused diplomatic tiffs, most recently with Ankara, incensed by the suggestion that it might like France to mediate between Turkey and the Kurds.
But nothing has drawn the same attention as his "bromance" with Donald Trump.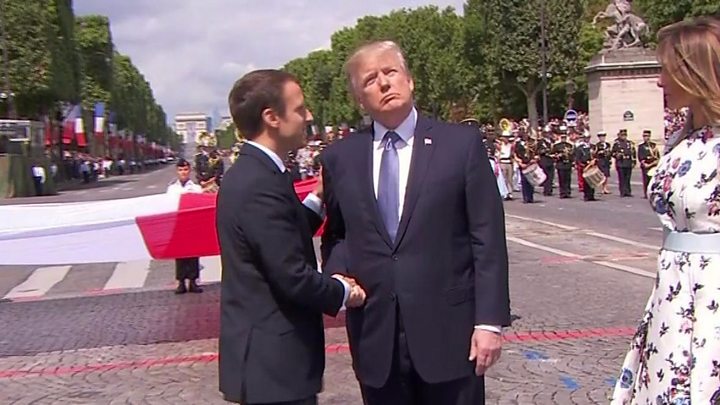 There is the unlikely age difference between the two men, their difference in political vision and values, in their style and personality, their backgrounds, their interests, their use of the media.
And yet, the Elysée describes their relationship as "very close", and the two men really do, by all accounts, speak often and frankly by telephone, and seem to have a genuine rapport.
This rapport has pushed France ahead of Germany and the UK, to become America's primary European contact.
Britain's retreat from Europe and Germany's trade and immigration policies helped open the way for Mr Macron, and it has not escaped notice here that it's he, and not Mrs May or Mrs Merkel, who is making the first state visit of the Trump presidency, when he will be a guest at a formal banquet and address the Congress.
And there are personal reasons for the new Franco-American bond.
Both Mr Macron and Mr Trump were seen as shaking up the political systems in their countries; both are - in their own ways - outspoken; and both like to project an image of strength. It doesn't hurt either, say some on the American side, that Mr Macron is male, and seen as handsome.
But France may also have an easier time adjusting to the disruptive Trump presidency precisely because it didn't have the kind of close, shared vision that both Germany and the UK have had with recent American presidents.
France is pragmatic in its approach to Washington - an alliance based on mutual interests rather than a shared moral vision of the world.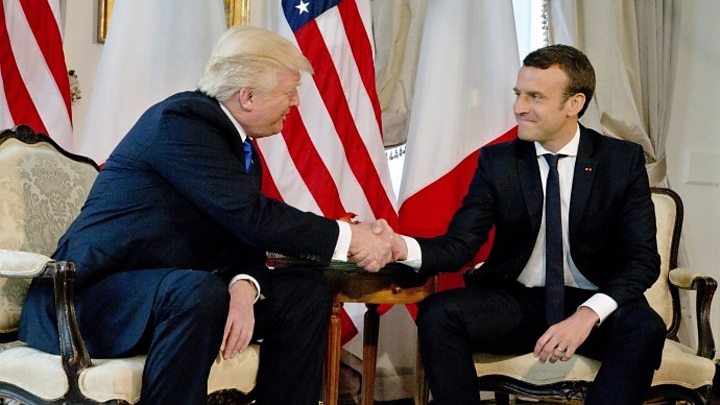 Those mutual interests are still dominated by security and counter-terrorism. France needs the US for its international fight against terrorism, and as analysts here will tell you, Paris has come to be seen as Washington's best bet for military support, in the wake of British caution following the Iraq War.
Mr Trump's approach to security has sometimes helped President Macron's own agenda in Europe. The American leader has been robust in asking EU states to take a greater role in their own security, and raise their defence spending to 2% of GDP.
Mr Macron, who has promised France will meet that target by 2025, is keen for Europe to have more autonomy in security and defence matters, and is pushing his proposal of a European Intervention Initiative, with the common resources and strategic goals that would allow it to carry out its own missions, as France does now.
But in a country where too close a proximity to the US can be politically dangerous for a president, Mr Macron will need to have something more to have show for it.
He recently claimed to have convinced his American counterpart to stay engaged in Syria, but that was quickly denied by the White House. And so far, despite raising expectations, there's little evidence of the French leader's influence over President Trump on key issues like climate change, the Iran nuclear deal, or the status of Jerusalem.
This visit will be a chance to discuss those policy differences with the US, with France hoping to agree "a document of recommendations" with Washington ahead of Mr Trump's planned withdrawal from the Iran nuclear agreement next month.
President Macron will also talk to Donald Trump about his planned tariffs on EU steel and aluminium, the conflict in Syria, and Washington's controversial decision to recognise Jerusalem as the capital of Israel.
But, even without any concrete influence over these issues, there's intrinsic value for Mr Macron in his relationship with Donald Trump.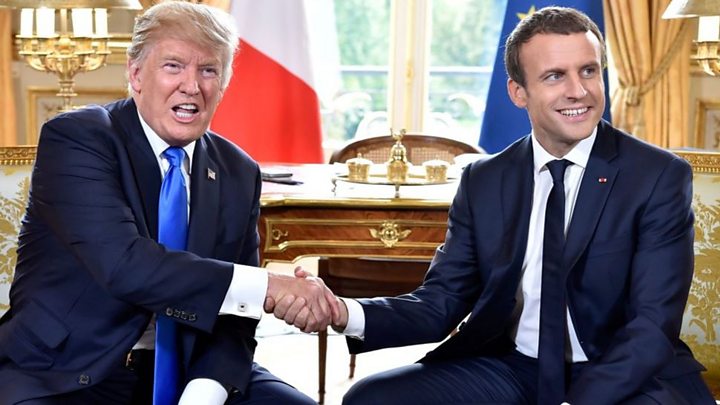 Mr Macron began his presidency with a commitment to restore French status abroad and a sense of its mission in the world. Lofty aims, which he believes are key to France regaining a sense of national identity and optimism.
His close relationship to Donald Trump, even without much policy influence, raises France's global profile and boosts its influence and leverage elsewhere.
Emmanuel Macron's diplomatic trademark is strong personal connections combined with robust policy differences - a delicate juggling act, on occasion.
President Trump's relationships can be unpredictable - analysts point out that Macron has been careful not to criticise him personally. And if Mr Trump's decisions directly harm French interests, Emmanuel Macron could find himself on the receiving end of far more damaging criticism - from French voters.
In which case, the relationship that boosts the French president's status abroad could end up scuppering it at home.