Garda Golden: New details on gun NI man used in murder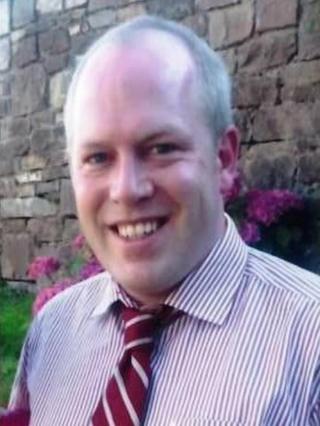 A County Down man who murdered an Irish police officer three years ago shot his victim with the same model of gun he had admitted importing a year earlier.
Adrian Crevan Mackin killed Garda Tony Golden in Omeath, County Louth, in 2015 before turning the gun on himself.
The officer was helping Mackin's partner, Siobhán Phillips, collect belongings from their house after she had reported violent domestic abuse.
Mackin also shot her, leaving his children's mother blind in one eye.
The attack happened at the house the couple shared at Mullach Alainn, Omeath, on 11 October 2015.
The 24-year-old gunman, who previously lived at several addresses around Newry, County Down, was out on bail at the time of the murder.
Mackin had been arrested by An Garda Síochána (Irish police) in January 2015 after a tip off from the FBI about illegal importations.
'Dissident republicans'
According to Irish broadcaster RTÉ, he admitted importing firearms parts to make six guns, and gave detectives information on the whereabouts of two of the weapons.
A sister of Mackin previously told RTÉ's Prime Time programme that she believes he was buying decommissioned firearms and selling them to dissident republican paramilitaries.
Despite four of the guns not having been recovered, Mackin was released on bail.
He was charged with IRA membership, which he denied, as opposed to the firearms offences that he had admitted.
About 10 months later, Garda Golden accompanied Ms Phillips to her Omeath home to protect her while she picked up her belongings, but Mackin opened fire as soon as they walked through the door.
The gun he used to kill himself and the officer was the same model as one of six guns he had admitted importing.
Last year, Ms Phillips and her family called for a public inquiry into the case, after questions were raised about why Mackin had been released.
The case is also being investigated by the the Republic of Ireland's police watchdog - the Garda Síochána Ombudsman Commission (GSOC).
In statement to BBC News NI, a spokesman for An Garda Síochána said the force "is aware that GSOC is undertaking a public interest inquiry into the circumstances surrounding the callous and brutal murder of our colleague Garda Tony Golden by Adrian Crevan Mackin".
"As such, we are precluded from comment. An Garda Síochána continues to co-operate with GSOC in relation to their investigations.
"An Garda Síochána has provided the minister for justice with a comprehensive report into the circumstances of the murder of Garda Tony Golden."
The report was published by Irish Minister for Justice Charlie Flanagan on 28 March.
Mr Flanagan said Garda Golden "died selflessly doing his duty in seeking to protect the members of the community he served" and his actions were "beyond reproach".
The minister added that it was "important to note that certain allegations in respect of the murder of Garda Golden are currently being examined by GSOC".