German mass raids target forced prostitution gang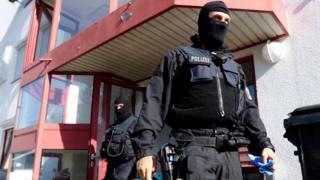 More than 100 people have been detained across Germany in raids against an organised crime gang involved in people trafficking and forced prostitution.
Germans and Thais were among those held as police commandos targeted dozens of brothels and flats in 12 states.
The victims were smuggled in on fake visas, police say.
"Hundreds of women and men fell prey for years and across borders to the traffickers' inhuman, boundless greed," said Interior Minister Horst Seehofer.
Seventeen suspects were believed to be at the heart of the crime gang. One house in the university town of Siegen was raided, where police detained a Thai woman and her German partner, described as the chief suspects in the trafficking gang.
Prosecutors believe the pair recruited sex workers in Thailand and brought them to Germany on fake tourist visas, initially to work in three brothels in Siegen.
Eventually, they say, the sex workers were sent around a network of brothels and were forced to pay back all the money they earned, ostensibly to refund up to 36,000 euros (£31,000; £45,000) for their entry into Europe's border-free Schengen zone and to pay for board and lodging.
Prosecutors described the system as like a "pyramid scheme", where prostitutes were promised profits but deceived over the conditions.
Brothels and flats were searched in a number of towns and cities, including Dortmund, Bremen, Gelsenkirchen and Düsseldorf.
Officials say 41 women and 15 men are facing legal proceedings, aged between 26 and 66.
Hundreds of thousands of people work in the sex industry in Germany, where prostitution became legal in 2002.
German MPs tightened the laws last year in an attempt to crack down on exploitation. Sex workers are now required to register with local authorities and it is illegal for people knowingly to hire the services of people forced into prostitution.
Wednesday's raids were described by Germany's federal police as the biggest in their history.