Tibet group thanks Sweden in 'Chinese spy' case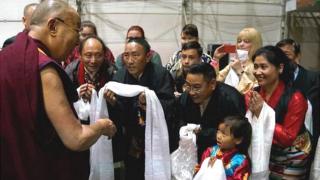 A Tibetan leader says she hopes other countries will follow Sweden's example by prosecuting alleged spies who give China information on exiled Tibetans.
On Wednesday, Sweden charged a Tibetan man, Dorjee Gyantsan, with espionage. China allegedly paid him for personal information about fellow Tibetans.
Tibetan community leader Jamyang Choedon said Sweden's action could "be an example for other countries".
Her associates in Sweden back the Dalai Lama's struggle for Tibetan self-rule.
The Dalai Lama - the Tibetans' exiled spiritual leader - is seen by China as a separatist threat. The Chinese Communist Party insists Tibet is an inseparable part of China.
Read more on China and Tibet:
Ms Choedon, speaking to the BBC from Stockholm, said her small community of about 140 Tibetans was "really shocked and a bit scared" by the case of Dorjee Gyantsan, who is 49. She said it was the first such case in Sweden.
Mr Gyantsan has denied all the charges, his lawyer Mikael Soderberg told the BBC. Arrested in February 2017, he is currently free but not allowed to leave Sweden.
"We know him, he was actively taking part in the community," Ms Choedon said. "I never felt he was against the Dalai Lama. He has been in Sweden more than 10 years."
"We're very thankful to the Swedish government that they are taking full steps; I hope all other countries do the same."
Trips to Poland
The indictment accuses Mr Gyantsan of having spied on Tibetan community members in Sweden for "cash benefits" and says he met "a representative of the Chinese state repeatedly in Poland, in connection with this activity". The espionage allegedly took place in 2015-2017.
When he was arrested, on returning from Warsaw, he was found to be carrying $6,000 (£4,200) in cash.
"The offence is considered gross because it was systematic, in progress for a long time and may have caused many people serious harm," the indictment says.
In Sweden the minimum jail term for spying is six months and the maximum four years.
Commenting on the case, Daniel Stenling, an officer of Sweden's Sapo intelligence service, said Sapo had worked with other European police authorities to monitor Mr Gyantsan's activities.
He called such spying "a very serious crime... as it prevents people who are already vulnerable, and have fled their countries, from exercising the rights and freedoms they should be enjoying under Sweden's constitution".