Pony and trap accident victims believed to be US tourists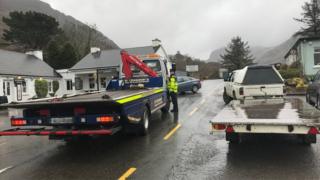 Two people believed to be US tourists have died in an incident in County Kerry in the Republic of Ireland.
The incident involved a pony and trap, a type of horse and carriage, near the Gap of Dunloe, outside Killarney at about 14:00 GMT.
It is understood the pony and trap may have overturned.
It is not clear if the man and woman, believed to be in their 50s or 60s, were in the carriage at the time.
The road has been closed and a forensic road crash investigation is due to take place.
Gardaí (Irish police) are appealing for information.