French police clash with eco-activists in woods near Nantes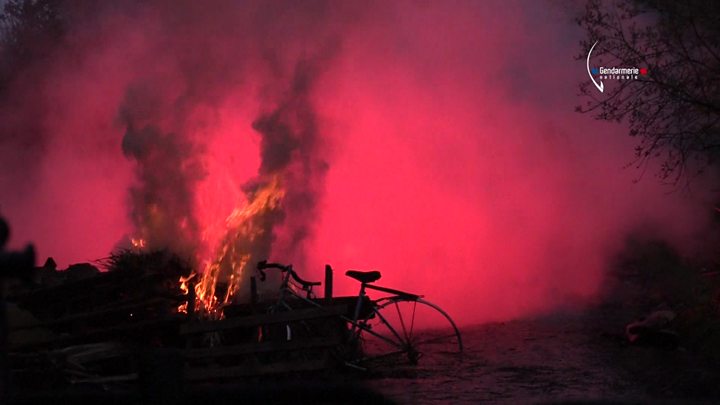 French police are trying to evict environmental activists from a wooded site in western France where a new airport was to have been built.
Police used tear gas at the Notre-Dames-des-Landes site against hundreds of activists, who built makeshift barricades and set some ablaze.
In January the government scrapped the controversial project to build a new airport near the city of Nantes.
Local politicians had hoped the new hub would boost the region's economy.
About 2,500 gendarmes were deployed for the eviction, which began at 06:00 (04:00 GMT).
They blocked nearby roads to isolate the squatters, many of whom have been occupying the site illegally for years.
Some protesters threw stones and other projectiles at the gendarmes, AFP news agency reported. One gendarme suffered an eye injury in the confrontation.
Opponents of the airport project argued that it was too costly and environmentally damaging. The relatively light traffic at the existing Nantes airport did not justify it, they said.
In January, Prime Minister Edouard Philippe said the project had to be abandoned, given the "climate of bitter opposition between two sides of the population that are nearly equal in size".
"We will put a stop to the no-go zone which has flourished in this area for nearly 10 years," Mr Philippe said.
A local news service for Loire-Atlantique region, Directpo, is tweeting pictures of the operation to dismantle the activists' camp.