Scammers impersonate French first lady Brigitte Macron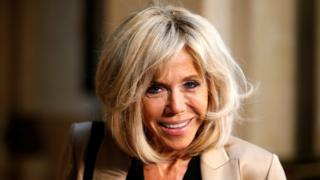 Fraudsters have used a fake French presidency email address to impersonate first lady Brigitte Macron and seek favours, French media say.
Her office has filed a complaint for identity theft, the reports add.
News of the scam emerged on RTL radio on Friday. It said that emails had been sent in Mrs Macron's name requesting access for "aides" to luxury hotels and restaurants in several countries.
None of the attempts were successful, AFP news agency says.
The messages have reportedly been sent over the past 10 days under the address cabinet@presidence.fr - official presidency emails end with @elysee.fr.
They included a request for a Moroccan hotel to pick up a "nephew" of Mrs Macron from a local airport, tickets for the Australian Grand Prix, and the best tables at top-end restaurants in Paris.
A source close to Mrs Macron told RTL that even though the aim of the scam might not be to gain access to actual services, it was "clearly intended to harm her reputation".
Brigitte Macron, who is married to President Emmanuel Macron, has a formal role and an office at the Elysée Palace.