Russia state of emergency as toxic dump fumes hit town near Moscow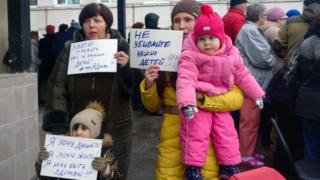 Russian officials say a state of emergency will be declared in the town of Volokolamsk, north-west of Moscow, where thousands have protested over toxic fumes from a landfill site.
Hydrogen sulphide in the town's air was at least 10 times above the permitted level on Thursday, although locals said it was far worse than that.
There are plans to evacuate mothers with infants to health facilities.
On 21 March, 57 children who had nausea and headaches were taken to hospital.
District leader Andrei Vikharev told an angry crowd on Thursday that "we are launching the state of emergency procedure".
A state of emergency allows a Russian town or district to get central government funding for equipment, medical supplies and temporary accommodation. It can also mean travel restrictions for locals and cancellation of some outdoor events.
The mayor, Pyotr Lazarev, said mothers with infants would be offered evacuation to health facilities, and later other children and invalids could also be evacuated.
He said residents would "get individual protection materials" - which he did not specify - and "the plan is to install ultraviolet lamps in schools". UV radiation can break down hydrogen sulphide and also boost the body's vitamin D production.
The organisers of Thursday's protest outside the town hall said about 6,000 people attended. The town, 129km (80 miles) from Moscow, has about 23,000 residents.
The waste dump at Yadrovo is several kilometres outside the town and the authorities have rejected local demands to close it.
One activist, Artyom Lyubimov, told Russian Vedomosti news that he doubted whether a state of emergency would really take effect.
"Our MPs were in favour of it, but Vikharev and the emergencies ministry were against," he said.
He said the priority was to evacuate residents from housing blocks nearest to Yadrovo.
The activists posted video of their demonstration on VKontakte, the Russian version of Facebook. Their VK group is called "Green" Volokolamsk.
A week ago the Moscow region's governor, Andrei Vorobyov, sacked Volokolamsk district leader Yevgeny Gavrilov, replacing him with Mr Vikharev.