Mother jailed in France for drowning five newborn babies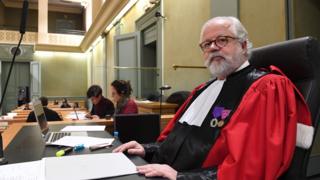 A French court has sentenced a mother to eight years in jail for drowning five of her newborn babies and then hiding them in a freezer.
Sobbing in court, Romana Canete, 37, asked for "forgiveness" at her trial in Bordeaux, south-west France.
She admitted giving birth in a bathtub at her home in Louchats, some 40km (25 miles) from Bordeaux, and leaving the babies to die in the water.
One of Canete's two teenage daughters found one baby in a bag in the freezer.
Police later found the other bodies there, after Romana Canete's husband Juan Carlos had contacted them, AFP news agency reports.
The grim discovery was made in March 2015, and Romana has already spent three years in detention.
The births and subsequent drownings are thought to have taken place over the previous 10 years, according to French media reports.
She is not expected to serve the full eight years, and will have five years of welfare supervision after her release.
Juan Carlos, a farm worker, said he was completely unaware of his wife's pregnancies. Experts quoted by the presiding judge described him as "possessive" and "jealous", French news website Le Point reports.
The public prosecutor, Xavier Chavigné, said the case against Romana took account of her husband's character. It was a case of "denial of motherhood", Mr Chavigné said.
Tearfully addressing the court, Romana said: "first I'd like to beg the babies' forgiveness - I'll be able to do that when I leave prison and go to the cemetery.
"And I beg forgiveness from my family, my daughters who have lived through this pain."
She added: "I had no other option; I had so rejected the idea of pregnancy that for me, mentally, these children could not exist."