Brexit: Varadkar would 'rather have the right deal in October'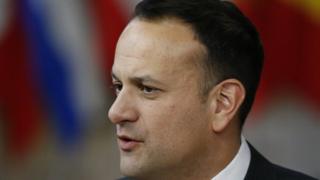 The Taoiseach (Irish prime minister) has suggested it could take until October to reach a deal on what will happen to the Irish border after Brexit.
Leo Varadkar was speaking at an EU summit in Brussels.
He said he would like to have a deal done earlier but he "would rather have the right deal in October than any deal in June".
It is expected a UK withdrawal treaty will have to be agreed by October.
The treaty will then have to be ratified by member states ahead of the UK exit in March 2019.
Mr Varadkar rejected any suggestion that the border issue could be sidelined as the wider Brexit talks progress.
He said: "We have absolute unconditional support from across Europe from all member states that there can be no agreement unless a hard border is avoided, and I haven't seen any departure from any European institution on that absolute position."
Mr Varadkar will hold a bilateral meeting with Prime Minister Theresa May this evening.
This week the UK and EU reached broad agreement on a withdrawal deal.
However, most issues relating to the Irish border were not agreed.
The main sticking point is a so-called backstop for the border.
It would mean that in the absence of any other solution, Northern Ireland, or the UK as a whole, aligning with EU rules required to support North-South cooperation and an all-island economy.
The UK has accepted the need for a backstop to be written into the Brexit withdrawal agreement.
But it has not agreed what EU rules it should cover.
Intensive talks focusing solely on Irish border issues are due to begin in Brussels on Monday.