Who was Russian businessman Nikolai Glushkov?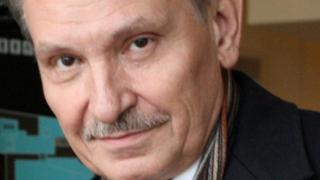 Nikolai Glushkov, the Russian business magnate, staunch opponent of President Vladimir Putin and political exile living in the UK, was found dead in his London home on 12 March.
The city's police have now launched a murder investigation, saying he died from "compression to the neck".
That has echoes of the unexplained death of his close friend, Boris Berezovsky, almost exactly five years ago.
But who was Glushkov?
High-flying businessman
Glushkov was born in Russia in 1949 and grew up in the Soviet Union. He became a prominent businessman in the early- to mid-1990s as the deputy director of Russia's AutoVAZ car company - which also had links to his friend, Berezovsky.
In 1992, the New York Times interviewed Glushkov, then 42, identifying him as a "former physicist and English teacher" turned business magnate.
But by the mid-1990s, Glushkov had risen to become deputy director of Aeroflot, Russia's state airline. It was then that rumours began to swirl about him - usually as a sideline to concerns about the power of Berezovsky.
One 1996 article by Forbes suggested Berezovsky was "the most powerful man in Russia", and raised questions about the management of both AutoVAZ and Aeroflot.
Glushkov made a brief appearance, with the author writing: "This gentleman has an interesting background" and claimed he was convicted in 1982 for theft of state property in Russia.
"Are Glushkov and Berezovsky in cahoots to siphon money from Aeroflot?" the author asked.
The article and its allegations resulted in a libel case against Forbes in London's High Court, which was eventually settled out of court.
But those allegations - proven or not - would surface again in 1999.
Fraud, prison, and escape
Aeroflot was raided in 1999 in what The Moscow Times called "a continuing offensive... against politically connected tycoon Boris Berezovsky".
The allegations, levelled against both men, involved laundering hundreds of millions of dollars from the airline, and connected fraud.
Glushkov was jailed over charges stemming from funds that flowed from Aeroflot through his payments firm Andava. He was convicted in 2004 and sentenced to time served - about five years since the raids.
Berezovsky remained free and soon fled to the UK in self-imposed exile.
Berezovsky had fallen out with Russia's rising new leader, Vladimir Putin, when he attempted to fund political opposition in the Liberal Russia party - two members of which were assassinated.
Both men were deeply critical of President Putin in the years that followed.
Glushkov, once free, was soon handed a suspended sentence for another count of fraud in 2006. He followed his old friend and business partner to Britain, seeking political asylum.
He would remain a wanted man in Russia until his death.
Death of a businessman
In the UK, the pair retained some notoriety as Russians in exile.
When Britain wanted to extradite ex-KGB agent Andrei Lugovoi over the death of Kremlin critic Alexander Litvinenko, the press noted that Mr Lugovoi had been linked to a supposed escape attempt for Glushkov in 2001.
Berezovsky made headlines again in 2011 when he became embroiled in a high-profile court case with another Russian oligarch - and owner of Chelsea Football Club - Roman Abramovich.
The eventual outcome in Mr Abramovich's favour is understood to have severely hit Berezovsky's finances, and possibly led to depression.
When he was found dead at his home in March 2013 with a piece of material tied around his neck, police said there was no sign of foul play.
But the coroner's inquest disagreed and returned an open verdict. The coroner said it could not be proved either way whether the businessman had taken his own life or been killed.
Glushkov, however, was certain.
"I will never believe in the natural death of Boris Berezovsky," he told the Guardian in 2013.
Glushkov's murder
Five years later, on 12 March 2018, Glushkov himself was found dead in his home in south-west London.
The death of another known critic of Vladimir Putin comes as a former double agent, Sergei Skripal, was apparently poisoned by the use of a Russian nerve agent in Salisbury - prompting a major counter-terrorism operation and political crisis.
An investigation by Buzzfeed News into 14 suspicious deaths involving Russians, published last year, is now receiving renewed attention. Boris Berezovsky is one.
In the wake of recent events, UK Home Secretary Amber Rudd said some deaths would be reinvestigated.
And now, with the death of Glushkov, specialist counter-terrorism police are investigating, rather than the normal homicide team.