Traditional piper Liam Óg O'Flynn dies at 72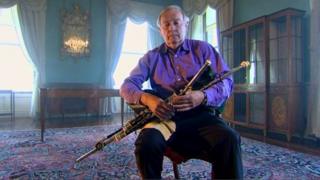 The Irish traditional musician Liam O'Flynn has died after a long illness at the age of 72.
Mr O'Flynn, who played the uilleann pipes, had been a member of the well-known group Planxty alongside Christy Moore, Andy Irvine and Donal Lunny.
He had also performed with Kate Bush, Emmylou Harris and Dire Straits' Mark Knopfler.
He was considered a master piper and a had a global following among fans of Irish traditional music.
The Arts Council of Ireland paid tribute saying Mr O'Flynn was "a virtuoso piper of international renown who brought uilleann piping and Irish music to the world stage".
Sheila Pratschke, the council's chairman, said the musician had left an incredible legacy, having collaborated with famous musicians as well as the poet, Séamus Heaney.
Liam Óg O'Flynn was born in 1945 in County Kildare to a musical family. His father was a fiddle player and his mother taught piano.
He was attracted to the uilleann pipes from an early age and excelled at the instrument.
In a tweet, Derry singer-songwriter Phil Coulter said he was "devastated" by Mr O'Flynn's death.
"He was a king among pipers and a prince among men. A complete musician and a gentle soul," he tweeted.