Bertrand Cantat: Killer rock star pulls out of French festivals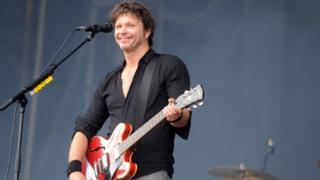 A French rock star who was jailed for murdering his former girlfriend has pulled out of a string of festival appearances after facing a backlash.
Bertrand Cantat was sentenced to eight years for beating actress Marie Trintignant to death, but was released after just four and returned to music.
A petition signed by almost 75,000 people called for his removal from a Normandy festival performance in May.
It comes after recent protests against male violence in the country.
Cantat is the former lead singer of band Noir Désir, one of the country's most successful rock bands.
He was jailed for beating his girlfriend Marie Trintignant, a well-known French actress, to death in a hotel room in Lithuania in 2003.
The murder sent shockwaves through France at the time, but he was released in 2007. Cantat later returned to music with a new album in 2013.
The controversy around him has steadily increased in recent months following his launch of a solo career.
Tens of thousands signed a petition asking Normandy's Papillons de Nuit festival to remove him from their line-up.
"By inviting Bertrand Cantat, you trivialise domestic violence and violence against women," the petition read.
On Monday, he announced he was cancelling all festival appearances to end the controversy.
In a statement posted to Facebook (in French), the singer said had made the decision to take pressure away from festival organisers, after realising his appearances there were "problematic".
"I have never sought to detract from the consequences of my actions and therefore from justice. Once again, I express my most sincere, profound and total compassion to Marie and her family.
"I have served my sentence. I did not benefit from any privileges. I wish today, just like any citizen, for the right to reinsertion. The right to exercise my profession," he wrote.
It came after a televised interview with the victim's mother, where she shared her anger about his return to music.
Speaking to French television, Nadine Trintignant said she found it "shameful, indecent, disgusting that he would go on stage".
"He did not pay anything at all," she said. "He should have served 20 years... Everyone seems to have forgotten the number of blows Marie received."
In October, a magazine faced a similar backlash for putting Cantat on their cover.
French activists have been using the Twitter hashtag #StopAgresseurs to speak out against the glorification of domestic violence and femicide.
The backlash comes days after about 1,500 took to the streets of Paris to protest against male physical and sexual violence on International Women's Day.
In France, one woman dies on average every three days at the hands of their spouse or partner, according to government figures.
During his presidential campaign, French President Emmanuel Macron said the issue of violence against women would be a priority for his presidency, and last year, he labelled it "France's shame".