Euro 2016: Russian in French custody over England fan attack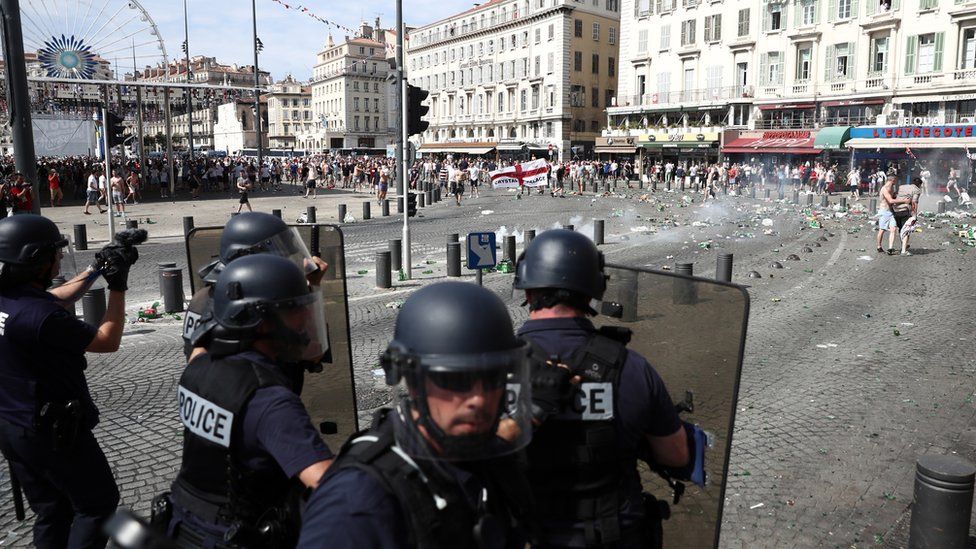 A Russian man has been taken into custody in Marseille over an attack at the Euro 2016 in which an English football fan was seriously injured.
The 31-year-old suspect was handed over to France by Germany, where he was arrested last month. He was not named.
If convicted, he could face up to 15 years in jail in for attempted homicide and grievous bodily harm.
Police say Andrew Bache, 51, suffered fractured bones and injuries to the brain and lungs on 11 June 2016.
Mr Bache, from Portsmouth, suffered severe brain injuries and had to be placed in an induced coma, from which he has since emerged.
German federal police earlier said the Russian suspect was identified following a joint investigation with British police over the course of almost a year-and-a-half.
He was arrested on 21 February during a flight change at Munich airport, while on his way to Bilbao in Spain for a Europa League game.
France jailed both Russia and England fans in the immediate aftermath of the Euro 2016 violence in the southern French city, and deported more than 20 others.
PC Stuart Dickerson saw "about 150 Russian hooligans who were clearly trained in fighting", wearing boxing gloves and gum-shields, and carrying metal bars and other weapons.
"It was like a load of locusts going through a cornfield," the British officer - on deployment in France - said.
"They were just randomly assaulting any England fan that was in their path."