Notorious leader Milosevic revived in the Slobodan Show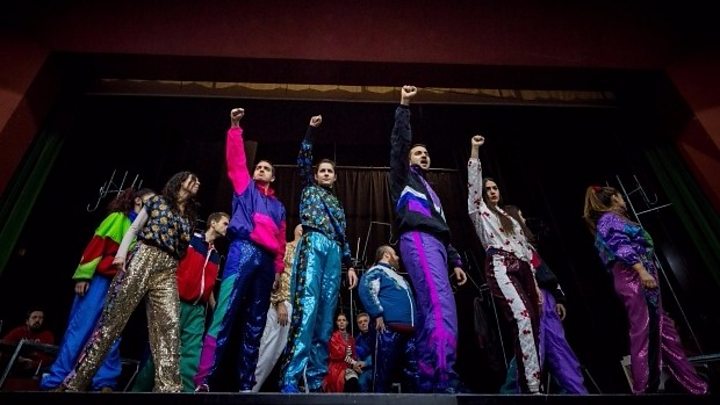 A stout figure, with a dense thatch of grey hair, stabs at the air with indignant fingers and raps out orders to an underling.
Through the thick smoke in the room, it is almost possible to believe that the bogeyman of the Balkans has returned.
Slobodan Milosevic is back - and this time he means business… show business.
The Slobodan Show is a musical about the tumultuous times of the 1990s, with Yugoslavia's notorious former president as its central character.
Seeing the Serbian ultra-nationalist revived on stage may come as something of a jolt to the audience.
'What marked our youth'
Even the actor portraying Milosevic still seems rather dazed to find himself in the position of bringing back to life a man whom many people viewed as a monster.
"Director Nenad Todorovic first proposed this play about a year ago - and when he suggested it to me, at first I couldn't believe I'd be doing a show about Slobodan Milosevic," says Dejan Cicmilovic.
"I lived through my 20s in the 1990s, those were the best years of my youth. Back then I spent more time in street protests than at university.
"Our goal was to topple Milosevic: we were all fed up with war, bloodshed, inflation, lack of freedom and oppressive autocratic rule."
It may have taken a period of adjustment but Cicmilovic is now fully committed to the role. He says this is a good moment to revisit the Milosevic era and all it represented.
"The mission of theatre is to subvert life. The cast and crew feel now is the time to talk about Milosevic and the 1990s - and I agree.
"I think enough time has gone by for us to be able to talk impartially about what happened and what marked the best years of our youth."
At rehearsals in Belgrade, a group of young women practised energetic dance steps, while a small choir ran through some wordless vocalisations.
It seems an unlikely accompaniment to the story of the 1990s, when Milosevic was the leading actor in a series of conflicts which caused the deaths of around 100,000 people.
Countless more were driven from their homes; many have never returned.
Who was Slobodan Milosevic?
President of Serbia and, later, Yugoslavia during the latter's breakup in the 1990s
Came to prominence in the late 1980s, supporting ethnic Serbs in Kosovo who said they were being oppressed by ethnic Albanians
Accused of plotting to create a "Greater Serbia" by forcibly removing non-Serbs from parts of Croatia and Bosnia
His government placed severe restrictions on independent media and freedom of expression
Protest movements eventually forced him from power in 2000 in the so-called "Bulldozer Revolution", when a construction vehicle smashed into the state-run TV building in Belgrade
Police arrested him in 2001 and he was transferred to The Hague to face trial on war crimes charges at the International Criminal Tribunal for the Former Yugoslavia
He was found dead in his cell in 2006, before his genocide trial could be completed
Springtime for Milosevic?
Reports suggest ethnic Albanians have avoided the show but playwright Jelena Bogavac is unapologetic about making a Milosevic musical.
She reckons that if Mel Brooks can offer the world Springtime for Hitler, then there is no reason to feel any compunction about producing the Slobodan Show.
"I saw so many musicals about people who were main players in historical catastrophes - so why not Milosevic?" she asks.
"Here in Serbian society there is a really big hole in trying to talk about the Milosevic phenomenon. Society never concluded whether he was guilty or not - shame for society and good for us if we can pose those questions."
The very existence of the Slobodan Show represents a considerable irony.
The 1990s was a decade of repression in Milosevic's rapidly diminishing Yugoslavia, where artistic expression could be dangerous.
Filmmaker Goran Markovic was among the many creative people who went into exile so they could continue their work without interference from the regime.
"All the aspects of power - including the cultural world - were in the hands of the Milosevic spouses and their minions," he says.
"This was mostly concentrated around the national TV - a monstrous organisation used for calls to arms and propaganda. In terms of personal expression, if you wanted to do anything you wouldn't be able to unless it was in co-operation with national TV. That was something I couldn't and wouldn't do."
But even though the Milosevic era damaged his own career, Goran welcomes the production of the Slobodan Show.
"It's important to reflect the times in relation to what's happening today. Young people today don't know about what happened in the Milosevic regime."
Some of those young people are now working on the Slobodan Show. They may have little or no recollection of the Milosevic era - but they are keen to explore what happened in their infancy.
"We are a divided nation - 50% say we should go right and 50% say left," says choir director Dimitrije Dimitrijevic.
"Many people in Serbia are still loving the idea of Slobodan Milosevic.
"It's frightening that there are still extremists in Serbia - but I like to spread the truth and like to express my talent. I love the idea of this musical; Jelena is an amazing and talented woman - that's why we're doing it."
Kosovo premiere
The show received its premiere in Gracanica, a majority ethnic Serb area of Kosovo.
Jelena Bogavac insists that this is not a provocative move but rather a reflection that Kosovo is one of the many places in the former Yugoslavia where ordinary people are still living with the consequences of the Milosevic era.
"We were side players in the 1990s; the main player was Slobodan Milosevic. His political biography starts and ends in Kosovo - he is the tragic hero in the Serbia and Kosovo tragedy."
Milosevic may have escaped justice at The Hague, where he died in custody before the conclusion of his genocide trial, but now the audience of the Slobodan Show have the chance to sit in judgement.