Belgium sexism law: Man who insulted officer first to be convicted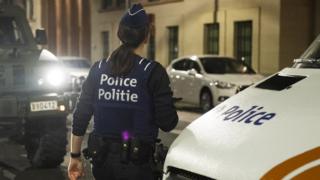 A man who insulted a female police officer because of her gender has become the first person to be convicted of sexism in a public space in Belgium.
The man, who has not been named, was stopped in June 2016 for violating the highway code and told the officer that her job did not suit women.
A court in Brussels fined him €3,000 (£2,690; $3,725). He can still appeal.
The law was introduced in 2014 after an outcry over a documentary showing the abuse women faced on the streets.
It condemns any act or statement meant to "express contempt", that considers a person inferior due to their gender or reduces someone to a sexual dimension.
The court sentenced the man, who was reportedly not in court, over sexism, insults and threats. He can be jailed for a month if he fails to pay the fine in time, Le Soir newspaper reports (in French).
"This is the first time we have used this law to prosecute someone," said Gilles Blondeau, a spokesman for the public prosecutor's office.
"It happens frequently that people arrested by the police insult or threaten them. But to personally blame a policewoman because of her sex is something particular."
The conviction took place in November but only now has been reported by media.
Belgium's Institute for the Equality of Women and Men said it hoped that the case would help raise awareness of the law and encourage victims to report cases.
"The educational role of this law is essential to achieve change attitudes and behaviours," it said in a statement.
Meanwhile, France's government spokesman Benjamin Griveaux has confirmed plans to introduce a new on-the-spot €90 fine for catcalling and lecherous behaviour in public.
The measure is part of a package of laws against sexual violence and harassment to be presented by the government in the coming weeks.