Russia MP: 'I don't feel people up. Well, OK, just a little'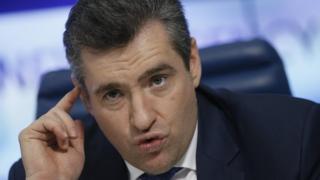 A BBC journalist has alleged that she was sexually harassed by the senior Russian politician Leonid Slutsky.
BBC Russian Service's Farida Rustamova is the third journalist to openly accuse him of improper behaviour.
Mr Slutsky denied the accusations and has threatened to take the women to court for defamation.
Russia has not had the same backlash against sexual harassment as seen in the US and Western Europe in the wake of high profile scandals.
'Lost for words'
Ms Rustamova recorded audio of the incident, which took place a year ago.
The recording is in the BBC's possession, but it has decided not to publish it.
On 24 March 2017, Farida Rustamova visited Leonid Slutsky, head of the foreign affairs committee, at his parliamentary office to get a comment about the then French presidential candidate Marine Le Pen's visit to Russia.
During the conversation, Mr Slutsky unexpectedly changed the subject and asked if she would like to leave the BBC to work for him.
When Ms Rustamova refused, he complained: "You're trying to get away from me, you don't want to kiss me, you've hurt my feelings."
In the recording, Ms Rustamova can be heard explaining that she has a boyfriend that she hopes to marry.
"Great, you'll be his wife, and my mistress," Mr Slutsky says.
Our correspondent says the politician then approached her and, in her words, began "running his hand, the flat of his palm, up against my nether region".
Sexual harassment in Russia
Russia does not have laws that cover sexual harassment
Victim blaming is very strong in Russia; even rape victims are often told they "brought it upon themselves"
Awareness is on the rise thanks to social media. In 2016 a campaign around a hashtag that translated as "I am not afraid to tell" spread across Russian Facebook. Women and men of all ages and backgrounds openly wrote about their encounters with sexual violence
Activists are now talking about the need for modern sexual education for teenagers
Lawyers are looking at introducing the idea of consent into the law
"I didn't understand what had happened," Ms Rustamova says.
"I was just lost for words, muttering funny noises, I just went numb. I blurted out something about not coming to him again, that he had felt me up."
Judging by his response, which was also caught on the recording, Mr Slutsky did not agree with her description of events.
"I don't feel people up. Well, OK, just a little. 'Feel people up' is an ugly expression," he said.
The BBC has asked Mr Slutsky to comment on the events of 24 March 2017, but he has not responded.
Ms Rustamova joins two journalists - TV channel RTVI deputy editor Yekaterina Kotrikadze and TV Rain producer Daria Zhuk - who have both, in the last two weeks, accused Mr Slutsky of sexual impropriety.
Mr Slutsky acknowledged the scandal after President Putin's state address last week, suggesting it was a political plot. "They've made them write about this," he told BBC correspondents.
"People are unhappy that the authority of the foreign affairs committee, including the committee chairperson, has increased.
"This is a typical example, I'm afraid, of made-to-order journalism that, instead of diminishing our authority, has probably strengthened it."
The State Duma - Russia's lower house - has emphasised that Mr Slutsky's guilt has not been proven and encouraged alleged victims to file a report with the parliament's ethics committee.
In comments to Russian newspaper Vedomosti on Wednesday, the speaker of the Duma, Vyacheslav Volodin, said: "Let's leave politics to politicians. We'll look into it. But there are always two sides to a story.
"So if, following a legal process, this turns out to be a provocation, then what do we do? If you offend somebody, you should apologise. If you provoke somebody, you should bear responsibility."
He also said that female journalists who felt afraid to cover the Russian parliament should seek work elsewhere.
Ms Rustamova is currently preparing her statement to the State Duma MPs' ethics committee. She says that Leonid Slutsky has made no attempt to apologise to her over the past year.
Russian law does not cover sexual harassment. Oksana Pushkin, a deputy at the State Duma, told the BBC that the law that prohibits coercive actions of a sexual nature (article 133 of Russia's Penal Code) "does not, in reality, work".