Germany's gender-neutral anthem alternative met with resistance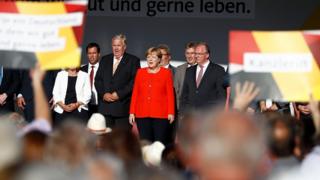 A call for Germany's national anthem to be gender neutral has been met with backlash, including from Angela Merkel.
The country's equality commissioner, Kirsten Rose-Moehring, had proposed replacing words like "fatherland" and "brotherly", according to German media.
Chancellor Merkel weighed in on the debate on Monday, saying she was "very satisfied" with the current lyrics.
Ms Rose-Moehring had said she wanted to make them less male-focused ahead of International Women's Day on 8 March.
Canada and Austria have recently adopted gender-neutral phrases in their national anthems.
The recommendations from Germany's equality tsar were publicised hours before the centre-left Social Democrats (SPD) announced that 66% of its members supported renewing its coalition with Chancellor Merkel's conservative Christian Democrats. Together, the two parties have ruled Germany since 2013.
Ms Rose-Moehring suggested in a letter to staff at Germany's family ministry, which is run by SPD, that a gender-neutral anthem would suit the times, according to weekly newspaper Bild am Sonntag.
She proposed swapping the word "Vaterland", or fatherland, for "Heimatland", meaning homeland, and replacing the phrase "brotherly with heart and hand" with "courageously with heart and hand".
"Why don't we make our national anthem ... gender sensitive," Ms Rose-Moehring wrote. "It wouldn't hurt, would it?"
Poet August Heinrich Hoffmann von Fallersleben wrote Deutschlandlied, or Song of Germany, in 1841. Parts of song have been the German anthem since 1922.
However, since the creation of the modern federal republic in 1990, only the third stanza has been used. It begins with the words "unity and justice and freedom".
Some of the lyrics - including the first stanza's words "Germany, Germany above all else" - have been dropped, as they were deemed to echo Nazi-era sentiment.
There was some support on social media for a more inclusive anthem that reflected a multicultural and tolerant society.
However, many politicians and media commentators have since shown no love for the proposal.
Chancellor Merkel's spokesperson Steffen Seibert said the leader did not see any need to make changes. However, the chancellor could not talk the equality commissioner out of pursuing her proposal, added Mr Seibert.
The future federal minister of agriculture, Julia Klöckner, tweeted: "I can think of other topics that would be more important for women than changing the national anthem."
"When women with double-barrelled names want to misappropriate a masterpiece like the national anthem, hopefully I'm not the only one getting angry," tweeted Stefan Möller, the spokesman for the Thuringia state branch of the far-right Alternative for Germany.
Another critic on social media said: "If that happens, I want to change [the phrase] 'mother tongue' too."