Slovakia's leaders clash over journalist's killing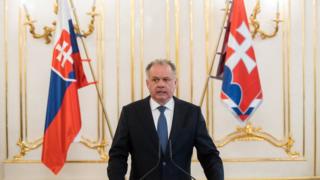 Slovakia's President Andrej Kiska has called for a radical government reshuffle or new elections to rebuild public trust after the murder of a journalist and his fiancée.
But Prime Minister Robert Fico disagreed, accusing the president of "dancing on the graves" of the victims.
The killing of Jan Kuciak and Martina Kusnirova sparked protests in Slovakia.
Kuciak, 27, had been investigating alleged political corruption linked to Italian organised crime.
He was shot dead before he had finished the article, but it was published posthumously.
All of the seven people arrested in connection with the murders were released on Saturday because no evidence had emerged during the 48 hours they could be legally detained, police said.
One of the men released is an Italian who had done business deals with officials close to Mr Fico.
Last week, Maria Troskova, the prime minister's chief state adviser, and Viliam Jasan, the secretary of the state security council, resigned amid allegations about past dealings with him.
In a joint statement, the pair denied wrongdoing. They said they were stepping down for the duration of the investigation so their names could not be used in a political battle against Mr Fico.
Mr Kiska called for a "radical reconstruction" of the government, but Mr Fico said this would undermine the results of the 2016 elections.
The president, who does not have formal powers to dissolve the government, accused senior officials of an "arrogance of power", and bemoaned a lack of action on the part of the government to restore public trust and defuse tensions after the killings last weekend.
He said he would meet political parties to find a way out.
Mr Fico said any government changes would have to be agreed by his Smer party's two coalition partners, adding: "In this process, the constitution does not recognise any role of the president."
He added: "Our goal is the investigation of this brutal act. We won't dance on the graves of two young people, unlike opposition, media and, now, the president."
The Slovak National Party, a junior government member, said it was ready to talk to the president. The other party in the coalition, Most-Hid, wants the interior minister to resign by 12 March.
Slovakia joined the European Union in 2004.
In his investigation, Kuciak alleged that Italian businessmen with ties to the feared Calabrian organised crime syndicate 'Ndrangheta had settled in eastern Slovakia, and spent years embezzling EU funds for this relatively poor region on the border with Ukraine.