Charges after Dublin shop is 'looted and bulldozed'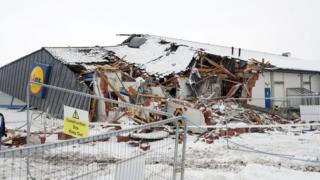 Nine men have been charged after burglaries at two shops in Dublin in the Republic of Ireland.
A Lidl supermarket was looted and bulldozed with a digger on Friday evening, while a Centra shop in Jobstown was also broken into.
A safe was removed and found partially open outside during the incident at the Lidl supermarket on Fortunestown Lane.
It collapsed after it was bulldozed with a stolen digger.
The Centra store in Jobstown was broken into, after a saw was used to cut a hole in the front.
Irish broadcaster RTÉ reports that civil defence, army trucks and snowploughs had to be used to bring police reinforcements to the scenes.
They said a small number of gardaí (Irish police) who tried to get to the scene at the Lidl shop were attacked and drew batons and pepper spray for personal protection. They did not use them and retreated.
Three men have been charged with burglary in connection with the incident at the Centra shop.
Six men were charged with various offences in connection with the incidents at the Lidl supermarket on Fortunestown Lane.
Three of the men have been remanded in custody and six have been released on bail to appear again in court later this month.