Football Association of Ireland probes Dario Gradi pornography claims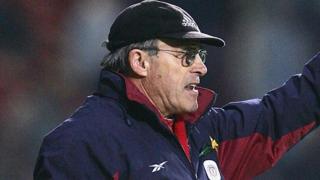 A claim that under-13 Irish footballers viewed pornography while at the home of an ex-Crewe Alexandra manager is under investigation by the Football Association of Ireland.
A former club employee claims a senior official asked him to help wipe porn off Dario Gradi's computer in 2001.
According to a statement given to the NSPCC in 2011, the man was told that Mr Gradi had been hosting a group of Irish under-13 players at his house.
Crewe and Mr Gradi declined to comment.
Earlier this month, Crewe's former youth coach Barry Bennell was jailed for 31 years for 50 counts of child sexual abuse.
'No criminal activity'
The man at the centre of the latest allegations added that he was "amazed" that Mr Gradi was allowed to host boys "in this manner", especially after Bennell's conviction for child sex crimes in 1994, and again in 1998.
The man - who does not want to be identified - told the NSPCC "it all seemed odd" and he raised his concerns with the club's chairman John Bowler, but he dismissed the behaviour as "quirky and nothing more".
He also reported his concerns about the alleged incident to Cheshire Police.
In November 2016, after fresh allegations were made about Bennell, the former Crewe employee contacted the NSPCC for a second time, and again spoke to the police.
In a statement, Cheshire Police told the BBC: "In December 2012, Cheshire Police received reports regarding concerns about material on a computer.
"Following enquiries, it was established that no criminal activity had taken place. The person who made the report was updated at the time."
No comment
Mr Gradi managed the English football club from 1983 to 2007 and is now Crewe's director of football.
However, he is currently suspended from working in football by the Football Association (FA) in England.
In December 2016, Crewe Alexandra confirmed Mr Gradi was suspended pending an FA investigation that would include looking into claims he "smoothed over" a complaint of sexual assault against a Chelsea scout in the 1970s.
Mr Gradi has previously denied any wrongdoing and just over a year ago, it was reported that he was to appeal his FA suspension.
Mr Gradi declined to comment on the claims involving the Irish schoolboy team.
When approached by the BBC and asked to confirm what steps to safeguard young players had been taken after Bennell's 1994 and 1998 convictions, Crewe declined to comment.
In a statement to the BBC on Friday, the Football Association of Ireland said it had "been made aware of a situation involving an Irish schoolboy club and are investigating the matter".
"Should anyone require support or advice in connection to this incident, they can contact the FAI Child Welfare Department," it added.