County Cork great-grandmother sledging picture goes viral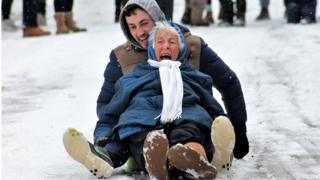 The 'Beast from the East' caused widespread disruption when it brought snow to many parts of Ireland.
While it proved a headache for some, others have been making the most of it - including 86-year-old great-grandmother Eileen Maguire.
She just couldn't turn down the opportunity to have a go at some sledging on Sweeney's Hill in Rathpeacon, County Cork.
"I wouldn't have done it if it wasn't for my grandson Jack," she said.
"I knew he'd be behind me and that I was safe.
"I watched them all having a great time and thought I'd give it a go - it was just spur of the moment.
"It was scary to start with but it got easier as we went along."
Eileen is no stranger to sports, regularly picking up the tennis racket or putting on her swimming costume.
"I play tennis a couple of days a week and I also go swimming - I just can't stay in".
"I've got nine grandchildren and one great grandchild - and they all turn up".
As for her new found viral fame, Eileen is delighted.
"I'm amazed at the reaction - I never thought it would go this far."
Her family said they were not surprised that she would take part, including her grandson Jack who was on the back of the sledge.
"I knew from the start that she would get on the sledge. There was a load of people watching - it was just brilliant.
"She was screeching like a banshee going down the hill. It was so funny.
"Granny is very active, she just goes with it. It's cool that the photo has gone viral".
'An inspiration'
Eileen's daughter-in-law Deborah says she is a real inspiration.
"She swims in the sea during the summer months in Bantry, several times a day regardless of the weather - with her lipstick and everything."
"She won't be going to God's waiting room any time soon - she refuses point blank."
Deborah took the photograph of Eileen and her grandson Jack going down the hill in the sledge but did not expect the reaction it has received.
"I think it's amazing. The picture was a bit of fun.
"People are connecting from all over the country asking their grannies to give it a go too.
"People tend to think of the elderly as feeble and this shows they are not. It's amazing. They can give us so much more.
"Eileen is an inspiration to family and friends, and everyone around her."