Slovakia journalist murder: Italians named in story detained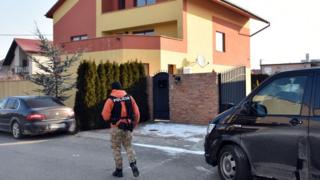 Slovak police say they have detained several Italian men mentioned in an explosive investigation by a journalist who was found shot dead last week.
Among them was a businessman who Jan Kuciak said had links to the mafia and contacts with figures close to Prime Minister Robert Fico, reports say.
Police suspect the murder of 27-year-old Kuciak and his partner Martina Kusnirova was a contract killing.
His story on the alleged corruption was published posthumously on Wednesday.
Raids and detentions were being carried out in several places in eastern Slovakia, police chief Tibor Gaspar said, without giving details.
Antonino Vadala, who owns several companies, and several relatives were among those taken into custody, local media report.
In his investigation, Kuciak alleged that Italian businessmen with ties to the feared Calabrian organised crime syndicate 'Ndrangheta - including Mr Vadala - had settled in eastern Slovakia, and spent years embezzling EU funds for this relatively poor region on the border with Ukraine
These men, he said, had cultivated business links with senior officials, including people close to Mr Fico. Two of them - chief state adviser Maria Troskova and national security council secretary Viliam Jasan - resigned from their posts.
They denied any involvement in the killing and said they were stepping down so their names could not be used in a political battle against Mr Fico.
Hundreds of people joined a protest called by the opposition in the capital Bratislava on Wednesday, and a another rally has been called by students on Friday.
Kuciak had been working for Aktuality.sk, an online unit of Swiss and German-owned publisher Ringier Axel Springer, for three years.
This is the first killing of a journalist in Slovakia's history.
Mr Fico has offered a €1m ($1.2m; £890,000) reward for anyone who comes forward with information about the case.