Rolling Stones: Dublin residents hoping for Satisfaction over gig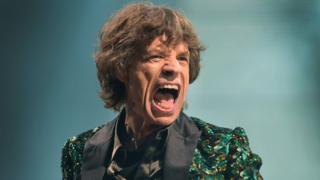 A plan to hold a Rolling Stones gig in Dublin's Croke Park stadium has angered some residents living nearby and reopened a long-running dispute over the venue.
Mick Jagger and his band mates plan to kick off their "No Filter" European tour in Dublin on 17 May.
The event has already been advertised as "subject to licence".
Some members of a local residents' group have objected to that licence being granted.
About 100 people attended a meeting on Monday evening to voice their opinions.
'Monstrosity'
One man told the public meeting: "People say we shouldn't live there. 'Why are you living there? You should move out.'
"We were there before that monstrosity was built."
But not everyone agreed.
"In this age where technology has taken over so many aspects of our lives, the idea of people getting together to listen to live music is very exciting and I love the buzz around the neighbourhood when it's happening," one woman said.
'Compromise'
Another resident said that Croke Park was "one of the best things" about the area.
"If it wasn't for them, half the projects that go on in it and the surrounding areas wouldn't happen.
"Maybe there should be a bit of compromise instead of trying to oppose concerts all the time," she added.
The venue will also be hosting two Taylor Swift concerts in June as well as one by Michael Bublé in July.
Pat Gates, who chairs the Clonliffe and Croke Park Residents Association, said: "80,000 people coming into the community is going to create disruption and it's not just a one-day event.
"It starts ten days before when they start erecting the stage and then three or four days afterwards when they are dismantling it."
The GAA had an agreement with residents that a maximum of three concerts would be held each year in the sports venue.
Croke Park has not yet responded to requests for a comment.
This latest dispute is drawing comparisons with the failed plan by country music star Garth Brooks to hold a series of concerts at the stadium in 2014 which made international headlines.
The Rolling Stones last played in Ireland at Slane in August 2007.