Russian activist in jail for giant duck protest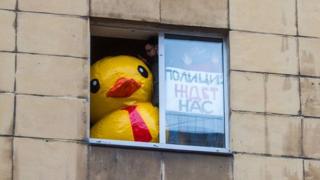 A Russian opposition activist has been detained by police for 25 days for displaying a giant inflatable duck in his apartment window in St Petersburg.
Next to the duck he displayed the slogan "The police are waiting for us".
Artyom Goncharenko's duck protest coincided with opposition rallies organised by anti-corruption campaigner Alexei Navalny on 28 January.
In a video, Mr Navalny accused PM Dmitry Medvedev of collecting luxury properties - and one had a duck house.
After that, rubber ducks became protest symbols among opponents of President Vladimir Putin's government.
Mr Goncharenko is accused of violating the Russian law on demonstrations. But lawyers quoted by BBC Russian doubted that there was any solid legal basis for arresting Mr Goncharenko for his duck protest.
His arrest - as he was leaving his apartment on Sunday - comes at a politically sensitive time, with Mr Putin seeking a fourth term in a presidential election on 18 March.
Mr Navalny has been barred from standing against Mr Putin in the election. The campaigner has urged his supporters to boycott the vote.