Zurich shooting: Two people dead from gun wounds near UBS bank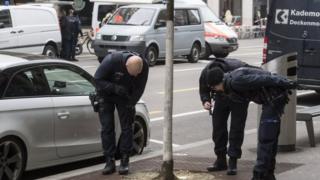 A man shot a woman dead outside a Swiss bank before turning the gun and killing himself, police say.
It happened outside the UBS bank in Zurich in the early afternoon, shocking passers-by.
Police said they believed it was a "relationship crime".
"A 38-year-old man shot several times at a 35-year-old woman and then shot himself," they said in a statement. The identity of the pair is not yet known.
The shooting took place shortly before 14:30 local time (13:30 GMT) on Lagerstrasse in the Europaallee area.
Images in the Swiss media showed two bodies on the pavement, with what appeared to be a pistol close to the hand of one of them.
The Blick news site said they were Italian nationals and the female was a bank employee, but this has not been confirmed.
The site also quoted a witness who said they had heard the couple arguing loudly beforehand in a nearby restaurant.
The BBC's Imogen Foulkes in Geneva says that although crime is relatively low in Switzerland, the easy availability of guns through serving in the Swiss army and on the open market makes the country one of the few in Europe where such a shooting is not that unusual.