One French woman in eight has been raped, study says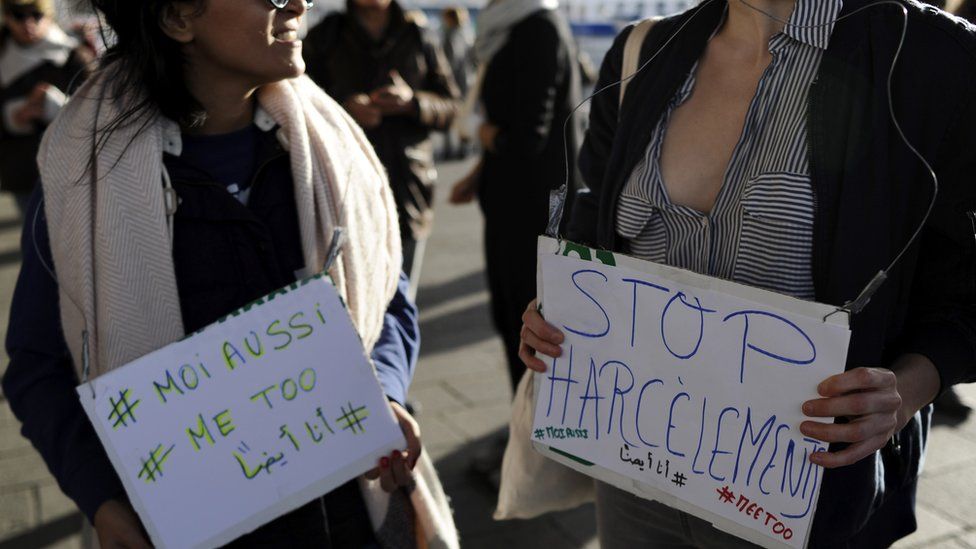 About four million French women - 12% of the total - have been raped at least once in their lives, a survey suggests.
The study for the Fondation Jean Jaurès, a Paris-based think tank, also says 43% have been subjected to sexual touching without their consent.
Like many other countries, France has seen women take to social media to highlight abuse in recent months.
Many have shared their experiences under the hashtag "Balance ton porc" ("rat on your pig").
The campaign was launched following the rape allegations against Hollywood movie mogul Harvey Weinstein last October.
In addition to the 12% who say they have been raped, 58% have been subjected to disturbing propositions and 43% to "sexual touching without consent", the study says.
Most of the women reporting such abuse have experienced it several times, it adds.
The report highlights the "heavy consequences and long-term repercussions suffered by the victims".
But the "rat on your pig" movement has generated national debate around what constitutes harassment.
Last month French movie star Catherine Deneuve was one of 100 women who signed an open letter claiming the movement had gone too far. It warned of a new type of "Puritanism" and insisted men should be "free to pester women".
"Rape is a crime, but trying to seduce someone, even persistently or clumsily, is not - and nor is men being gentlemanly a chauvinist attack."
Deneuve later clarified her position saying the letter was not meant as a defence of harassment and "fraternally" paid tribute to victims of sexual assault.
The French minister for gender equality, Marlène Schiappa, has vocally defended "balance ton porc", "Me Too" and similar movements.
Last year Ms Schiappa set out plans for a law cracking down on sexual violence and harassment.
The proposals would include on-the-spot fines for catcalling and lecherous behaviour in public.
As well as cracking down on harassment, the legislation will also give people who experienced sexual assault as a child more time to make a police complaint, and toughen laws on sex with minors.