41,000 historical artefacts seized in crackdown - Europol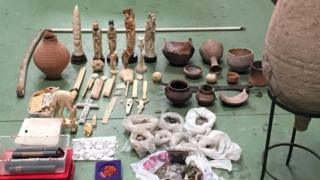 More than 41,000 valuable objects have been seized in a major crackdown on the illegal trafficking of cultural goods, Europol says.
The European Police Force said the items included paintings, sculptures, musical instruments, furniture and ancient weapons.
Customs and police officers from 81 countries took part in the crackdown, which happened at the end of last year.
It involved increased checks on airports, auctions and internet sales.
In Spain alone, police seized more than 2,000 culturally significant items. Most of these were coins from the Roman Empire and archaeological objects made of ceramic, metal and stone.
Separately, various pieces of ivory were seized including a carving of Christ valued at 6,000 euros (£5,300, $7,400).
A range of weapons including swords, pistols and a crossbow and katanas - a type of traditional Japanese sword - were also among the items.
Police began the investigation by monitoring websites that are used to buy and sell historical artefacts.
Criminals are increasingly reaching collectors online and avoiding traditional channels such as auction houses, detectives say.