Belfast-bound gun 'hidden with nappies' on pram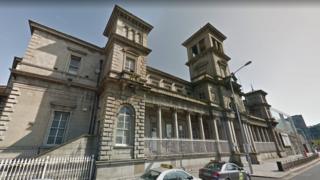 A woman who helped smuggle a loaded gun onto a Belfast-bound train carried the gun in a box of nappies which hung from her child's buggy, a court has heard.
Nikita Murtagh, 20, handed a shoebox containing the gun to a man at Connolly station last summer.
The 20-year-old, from Mariners Port, Sheriff Street in Dublin, admitted unlawful possession of a semi-automatic pistol at the Special Criminal Court.
She has been released after most of her three-year sentence was suspended.
Murtagh was under surveillance by Gardaí (Irish police) at the time of the offence on 19 July last year.
She was being tracked the Garda's Drugs and Organised Crime Bureau when she handed the shoebox to a man who boarded a Belfast-bound train at Connolly.
However, both Gardaí and defence lawyers told the court that Murtagh had been used by devious people to move the loaded gun from Dublin to Belfast.
Det Insp Noel Browne told the court Murtagh had acted out of misplaced family loyalty.
He said that some of her relatives had been connected to extreme violence in recent years.
The young mother, who has no previous convictions, was later arrested at a bus stop at Dublin Airport.
She was carrying a passport and a bag of clothes when she was detained.
On Monday, she was sentenced to three years in prison, but the judge took into account the amount of time she has already served in custody.
The outstanding two years and five months of her jail sentence was suspended due to her personal circumstances.
A judge told her the offence she committed did not deserve the approach taken, but the three judges believed that her loyalty should now be to her young child.
He also warned her that next time there would be no allowances made and no such mercy if she came back before the judges.