Is the French wine brotherhood worried about Brexit?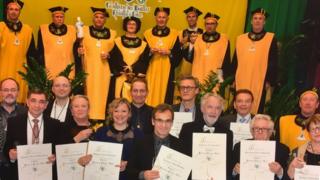 It is not every day you get asked to join a medieval-style brotherhood, and I was nervous lest the Pouilly winegrowers spot that I knew nothing about wine.
What if they asked me to explain the difference between a Pouilly-Fumé and a Sancerre?
What if they made me do a blind tasting as a condition of entry, then drummed me out to hoots of laughter when I described the 2016 as charpenté (full-bodied) instead of chaleureux (warm)?
They would soon work out I was an oenological no-hoper.
Of course in the end there was nothing to worry about. The Grand Council of the Confrérie des Baillis de Pouilly were as convivial a collection of elders as ever stalked about in faux-medieval costumery.
Surreal provincial charm
A brotherhood, or confrérie, of winegrowers, they exist to transmit knowhow, promote their brand, and for mutual help.
The translation of the old French word bailli is bailiff. But these are not people who knock on your door and demand TVs as payment for unpaid bills. Bailli is what the royal administrators of the old French monarchy were called.
Wine brotherhoods existed all over France in olden times, before being abolished after the 1789 revolution.
If they have been resurrected in the modern era, it is with precisely the same raison d'être as all those years ago.
And if the elders of House Pouilly are happy to don the old cape and hood, from time to time, that just adds to the merriment.
The Pouilly brotherhood was founded in 1949, and when I visited them, they created a day of splendid - if occasionally surreal - provincial French charm.
Brexit on the horizon
I was approached to become a bailli because I know the region (I have a house across the river) and also because the Pouilly brotherhood are not stupid.
They like to select journalists, because journalists mean publicity. British journalists mean British publicity.
And with Brexit on the horizon, that is starting to matter.
The day starts calmly enough in the early afternoon, with a modest glass or two at the Châtelain winery, established in 1640.
It is the feast day of St Vincent - patron saint of the Pouilly winemakers - and a wooden statue of him is moved into the winery, where it will stay and hopefully bring good fortune for the next 12 months.
Mass follows at the Catholic church in the town of Pouilly. This is an irreligious age - a fact brought home with weird clarity as a trumpeter plays Somewhere over the Rainbow through the celebration of Holy Communion.
But a latent numinous instinct lurks within the winegrowers, and they turn out in force. Their ancestors have prayed to St Vincent since time immemorial. Why stop now?
And from there it is on to the salle des fêtes or community hall for the gala dinner. It's a 1970s utilitarian space, not unlike a brightly-lit gym. Two middle-aged chaps in showband-style black shirt and white tie run the sound system, which they mainly keep under control.
The meal is a feast. There are five Pouilly-Fumés as well as a Gamay de Bouze, a Santenay and a Beaumes de Venise, with food to match.
We are 10 inductees, including a few locals, a well-known winemaker from Touraine, and the woman in charge of the vineyards of the Hospice de Beaune in Burgundy.
Incredibly aware, fantastically clueless
But enough! I had also come down to sound out views on Brexit. After all, Pouilly's biggest export market is the UK.
How worried were the winegrowers that this may be under threat once the UK is out of the single market? Would British people stop buying Sauvignon Blancs from their region?
My impression was that on Brexit, Pouilly is at the same time incredibly aware and fantastically clueless. Like most of us, in other words.
Everyone was worried that prices would go up in the UK, and that Brits would therefore start buying less of their wine.
But their main preoccupation was exchange rates (which of course have already moved sharply to make euro exports to the UK more expensive). The fact there might also be a tariff on French wine had not really sunk in.
Luckily there was a man from the French wine marketing board to explain the mentality.
"These are winegrowers," he said. "They spend their lives worrying, but not about politics: about the weather.
"They and their families have been growing vines here for centuries. That gives them a certain perspective on the here-and-now."
So maybe that is another reason why they like dressing up as medieval philosophers.
Looking back at the grand sweep of history, when a row with the Brits could actually mean the Hundred Years War, maybe Brexit isn't so alarming.
Newly inscribed as a bailli, and after my five Pouilly-Fumés, that was certainly my conclusion.