Russia election: Strawberry tycoon among Putin challengers confirmed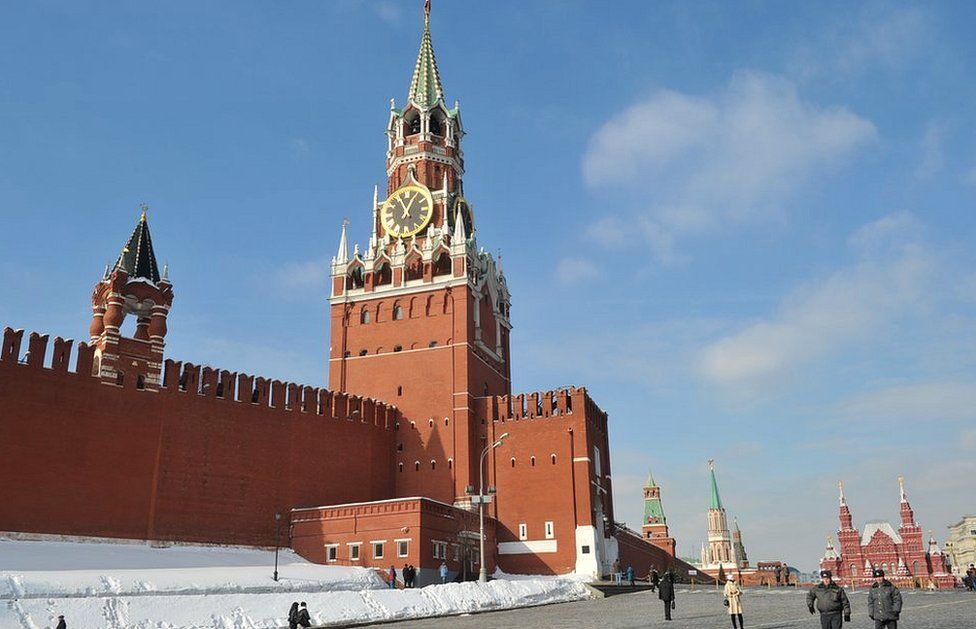 Eight candidates have been officially confirmed to run in Russia's 18 March presidential election.
Vladimir Putin, hoping to win a fourth term, is the clear favourite. Opinion polls give him a lead of more than 60%.
Mr Putin comes fourth on the ballot paper, as candidates are listed in alphabetical order.
So who is running against Mr Putin?
Nicknamed the "strawberry candidate", the 57-year-old engineer and farmer is backed by the Russian Communist Party (CPRF).
Since 1995 Mr Grudinin has been boss of the Lenin State Farm - Russia's largest strawberry grower, on the southern outskirts of Moscow. It supplies the capital with other fruit too, and boasted earnings of 2.3bn roubles (£29m; $41m) in 2014-2015.
The Soviet-era name may appeal to many older Russians nostalgic for the communist past. But the business is more efficient than most Soviet farms ever were; its strawberry harvest is as much as 60 tonnes daily.
During his election registration Mr Grudinin was found to have foreign bank accounts, which he is now reported to have shut down.
Russian oligarchs are well known for squirrelling away fortunes in safe foreign banks, but that behaviour is not popular among poor, rank-and-file communists.
It suggests that Mr Grudinin is a "red capitalist" like some other Russian Communist politicians. In 1997-2011 he was an MP in the Moscow regional parliament.
In a TV debate he said "the communist idea united people" and "betrayal caused the Soviet Union's collapse". That nostalgia for Soviet-era power echoes President Vladimir Putin's brand of patriotism.
The former secret service chief first became president in 2000. Now he is campaigning for a fourth term, and the nation's children have only ever known a country led by the 65 year old.
Putin supporters dominate the Russian parliament and state media. His big campaign theme is national unity and self-reliance, as Russia has frosty relations with its Western neighbours and remains under economic sanctions.
So far his military gambles - annexing Crimea and intervening in Syria - appear to have paid off at home, despite hostility abroad.
Mr Putin has honoured the Soviet war dead twice recently - in St Petersburg and Volgograd (formerly Stalingrad) - 75 years after the USSR turned the tide against Nazi Germany. The simple message is: we can be a great power again, commanding global respect.
The 71-year-old nationalist firebrand is a veteran of post-Soviet politics.
Mr Zhirinovsky was an established politician before most Russians had even heard of Vladimir Putin. He has a law degree, a diploma in Turkish and served as a Soviet army officer.
He first ran for the Russian presidency in 1991, coming third. His Liberal Democratic Party (LDPR) - in reality hardline Russian nationalist - was the first registered opposition party in post-Soviet Russia.
Mr Zhirinovsky's style is macho, anti-Western populism, laced with aggression and crude humour.
He dreams of restoring Russian imperial power, so that "Russian soldiers can wash their boots in the warm waters of the Indian Ocean". He says Russia "should not have created Ukraine and Belarus".
He grew up in a poor home in Kazakhstan, and says that made him sympathetic to the losers in society.
He may appear to be an earthy man-of-the-people, but his official property declaration shows he has eight homes in Moscow, two huge garages and millions of shares in Russia's VTB Bank.
The 36-year-old TV celebrity casts herself as "the candidate against all the above", calling for a democratic renewal of Russia.
Ms Sobchak told the BBC she wanted "evolution, not revolution" of the Putin system. She would support reformist politicians who have Mr Putin's approval, but warns against an upheaval to oust Mr Putin.
She did however take part in anti-Putin demonstrations in 2012 and advocates a new referendum in Crimea, which she says still belongs to Ukraine. She complains that Russian politics is corrupt and stagnant.
Some have dubbed her "Russia's Paris Hilton", pointing to her showbiz career. She once presented a reality TV show from a bubble bath.
With disarming frankness during this campaign she said "I won't win these elections". She is committed to politics, however, and wants to get elected to the Duma - parliament - in 2021.
Some see her candidacy as a clever Kremlin manoeuvre to undermine support for Alexei Navalny - an allegation she strongly denies.
Her father, the late Anatoly Sobchak, was mayor of St Petersburg and mentored Mr Putin.
For many Russians Mr Yavlinsky, a 65-year-old liberal, carries a great deal of political baggage from the turbulent past.
He held economic management posts in the USSR, and helped liberalise the Soviet economy under Mikhail Gorbachev. Later he disagreed with the rapid privatisation that created a new class of super-rich oligarchs and deepened the poverty of millions.
The pain of Russia's transition to capitalism has dogged Mr Yavlinsky; his Yabloko party, founded in 1995, failed to win any seats in the 2016 Duma election.
His manifesto sets as a top priority resolving the Ukraine conflict, through international mediation. He opposes Russia's annexation of Crimea.
He would introduce a basic income to help tackle Russia's widespread poverty and would provide state support to enable millions of Russians to have their own home and a plot of land.
Since 2012 this entrepreneur has been President Putin's Business Ombudsman, a job that involves fighting corruption.
Mr Titov casts himself as an economic liberal, and also has an influential post promoting business ties with China.
The 57-year-old is relatively new to politics - he was chosen last year as the presidential candidate of the small Party of Growth.
In 2006-2012 he was director of the Abrau-Dyurso winery near the Black Sea, in southern Russia. The winery is part of a sprawling luxury resort.
Mr Titov may appeal to some pro-business Russians, but he is not well known nationally. In the USSR he held various top management posts in industry.
He has met fugitive Russian businessmen in London and offered to mediate in some legal disputes. It is an apparent effort to repatriate some of the vast amount of "flight capital" that has left Russia.
He says he aims to make Russia a profitable place again for international investors - and that requires tax reforms and less state bureaucracy.
This 59-year-old nationalist is the candidate of the Russian All-People's Union. He was first elected to the Duma in 1993 but failed to get re-elected as a Communist candidate in 2016.
Trained in law, Mr Baburin opposed the dissolution of the USSR in 1991. Earlier he had served with distinction in the Soviet army in Afghanistan.
He supports Mr Putin's foreign policy - he is happy about the annexation of Crimea, and says Russia "defended itself successfully" in Syria.
But domestically, he says, Russia is mired in corruption and injustice. The "neoliberal mafia" is in charge, he complains. The authorities have ruined education and healthcare and plunged the federal budget into chaos, he says.
"Comrade Maxim", 39, is the candidate of Communists of Russia, a party that broke away from the CPRF Communists in 2012.
He casts himself as a "Leninist-Stalinist" - the only candidate who wants to dismantle capitalism wholesale and bring back the USSR. He dismisses his rivals in this race as "bourgeois". He has never run for president before.
Mr Suraikin says his party has about 50,000 members and 72 branches. But none of the party's leaders are well-known national politicians.
He rejects the claim that he is a spoiler put forward to divide the Communist vote. He argues that Mr Grudinin is not a true Communist, saying "I don't understand how a millionaire can be a protest candidate".
He says the Communists of Russia broke away because the CPRF had started promoting "oligarchs" as election candidates.
He was a CPRF member in 1996-2004 and held several senior posts in the party. Previously he had studied logistics and had run a computer repair business.