Flight with 85 plumbers turns back due to broken loo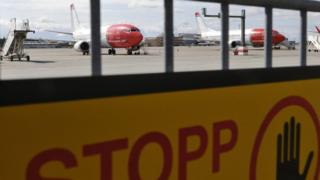 How many plumbers does it take to fix the toilets on a Norwegian Airlines flight?
The answer, it would seem, is more than the 85 who were flying from Oslo to Munich on Saturday.
Twenty minutes after take-off the aircraft was forced to return to the tarmac after a fault with the toilets was discovered.
And because the problem had to be fixed from the outside there was little the plumbers onboard could do to help.
The majority of the professionals onboard work for plumbing company Rorkjop, whose Chief Executive Frank Olsen told Norwegian newspaper Dagbladet that his employees "would have liked to fix the restrooms".
"Unfortunately it had to be done from the outside and we did not take the opportunity to send a plumber at 10,000 metres," he said.
'We'll just use a bucket'
The news has seen some social media users share their own stories of lavatorial anguish. One social media user recalled an unusual response to waiting for a plane loo to be fixed.
"I'll never forget spending two hours on the tarmac," he wrote. "Then hearing someone scream 'we'll just use a bucket!' when they came on the loudspeaker to announce it would be another 45 minutes."
Others thought the whole thing was too good to be true.
You might also like:
A spokesperson for Norwegian said: "Flight DY1156 from Oslo to Munich on Saturday January 27 returned to Oslo due to a technical fault with the toilet. The aircraft was repaired and continued with the flight later that day.
"We would like to thank passengers for their patience and would like to apologise for the inconvenience."
By UGC and Social News team