Russian SU-27 warplane 'flew 1.5 metres' from US spy plane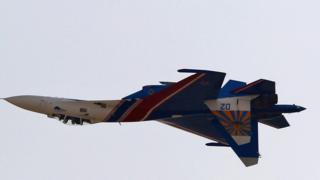 A Russian fighter jet has flown extremely close to an American spy plane over the Black Sea.
The distance between the SU-27 warplane and the EP-3 spy plane was just 1.5m.
The US Navy said that the Russian plane tailed the US aircraft for over two hours. The incident occurred in international airspace.
The Russian defence ministry has claimed that its actions were in accordance with international rules for the use of airspace.
Forces from both Russia and the Nato alliance operate in the shared airspace, although tensions have increased since Russia annexed Crimea in 2014.
In a statement, the US Navy said the Russian fighter jets had crossed directly into the American spy plane's flight path.
It cautioned that "the Russian military is within its right to operate within international airspace, but they must behave within international standards set to ensure safety and prevent incidents".
The Russian defence ministry, on the other hand, said the flight path of its plane was "in accordance with the international rules for the use of airspace".
It said that the behaviour of its pilots was not in any way "non-standard" and that their actions were an attempt to "stop [the US plane] from violating the Russian Federation's airspace".
The Russian government said once the US plane had moved away from the border, its fighter jet returned to base.