German shock at car exhaust tests on humans and monkeys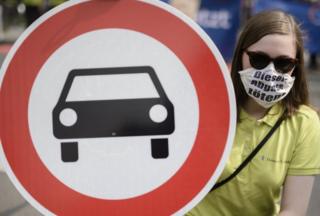 The German government has denounced experiments funded by German carmakers in which humans and monkeys reportedly inhaled diesel exhaust fumes.
German media say the health impact research was done by EUGT, a body funded by Volkswagen, Daimler and BMW.
Such tests could not be justified, the government said, demanding details. A minister called them "abominable".
Daimler also condemned them. VW is embroiled in a scandal over software that gave false diesel exhaust data.
In 2015 VW admitted having fitted "cheat" devices in the US that made their engines appear less polluting than they actually were.
EUGT was dissolved by the carmakers last year. The initials stand for European Research Group on Environment and Health in the Transport Sector.
"These tests on monkeys or even humans cannot be justified ethically in any way," said Chancellor Angela Merkel's spokesman, Steffen Seibert.
Environment Minister Barbara Hendricks called the experiments "abominable" and expressed shock that scientists had agreed to conduct them.
Social Democrat politician Stephan Weil - a VW supervisory board member - called them "absurd and abhorrent". "Lobbying can be no excuse whatsoever for such testing," he said.
What do we know about the tests?
On Thursday the New York Times reported that the EUGT research was designed to counter a 2012 decision by the World Health Organization to classify diesel exhaust as a carcinogen.
It said that in 2014, EUGT had exposed 10 monkeys to fumes - in an air-tight chamber - from several cars, including a diesel VW Beetle. The testing took place at a lab in Albuquerque, New Mexico.
Then at the weekend Germany's Stuttgarter Zeitung and SWR radio reported that 19 men and six women had inhaled diesel fumes in another EUGT experiment.
During a month of tests at a lab in Aachen, west Germany, they were exposed to various concentrations of diesel fumes, which contain toxic nitrogen oxides (NOx). The BBC has not seen the study itself, but German media say it was published in 2016.
At the time the carmakers were arguing that modern technology had cut pollution from diesel engines to safe levels. But VW was later found to have fitted "cheat" devices that rigged the emissions data.
The Aachen University Clinic said its "ethically approved" human tests had "no link" to the VW emissions scandal.
Read more on the diesel emissions scandal:
What have the carmakers said about this?
Daimler, manufacturer of Mercedes-Benz cars, said on Sunday "we are appalled by the extent of the [EUGT] studies and their implementation". "We condemn the experiments in the strongest terms."
Reacting to the NYT report about the monkey experiments, VW tweeted on Saturday that it "explicitly distances itself clearly from all forms of animal abuse".
"We know that the scientific methods used by EUGT were wrong and apologise sincerely for this."
VW's supervisory board says it will conduct a full investigation, calling the experiments "utterly incomprehensible".
What is the latest on diesel pollution?
A new study by a German car specialist, Ferdinand Dudenhöffer, says levels of pollution from diesel cars are still too high in 10 German cities, so the vehicles are likely to be banned from the pollution hotspots unless engines are upgraded.
According to his research, vehicle software upgrades would not be enough to address the problem. Munich, Stuttgart, Hamburg, Düsseldorf and Cologne are among the cities with serious pollution hotspots.
Were the tests unethical?
The German government thinks so. VW apologised and Daimler said "the EUGT's approach contradicts our values and ethical principles".
Two independent scientists who have conducted air pollution tests on human volunteers told the BBC that the company sponsorship in the German case was problematic.
"If the research is not independent then there would be doubt about its validity and it would therefore not be ethical," said Prof Frank Kelly of King's College London.
He said hundreds of volunteers had participated in state-funded studies on the impact of diesel exhaust - studies which required prior ethical approval. In one study by the college, volunteers with chronic lung or heart conditions walked down London's busy Oxford Street and through Hyde Park.
"Experimenting on people or monkeys is not inherently unethical," said Dr Chris Carlsten of Canada's University of British Columbia.
He said it was "not very common" to do air pollution tests on monkeys, though some had been used in ozone impact studies.
He has studied the effects of diesel exhaust on volunteers, who are paid about C$14 hourly (£8; $11) for two hours of exposure at a time. The diluted exhaust exposure is similar to the level experienced in Beijing, he said.
"These studies are essential to back up policies that protect all of us," he said.