France murder: Jogger Alexia Daval's husband is detained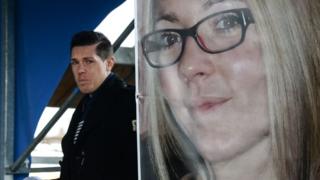 The husband of a murdered jogger has been detained by French police.
Alexia Daval's partially burnt body was found in woodland near the north-eastern French town of Gray in October.
A lawyer for Jonathann Daval denied on Monday his involvement in his wife's murder. He said the 34-year-old had "expected this test" and his late wife's family supported him.
Investigators believe Mrs Daval's death may have been the result of a "marital argument gone wrong".
The couple, who were having difficulties conceiving a child, were "experiencing strong tensions", sources told French media.
Police searched Mr Daval's home for several hours on Monday while the suspect was there, his lawyer, Randall Schwerdorffe, told reporters.
The lawyer said Mr Daval wanted to know who was behind his wife's murder, adding that "you don't kill because of an argument". He said he was confident his client, whom he described as very calm, would be freed after the 48-hour period of detention.
What happened to Alexia Daval?
Mrs Daval, a 29-year-old banker, went out for a morning run on 28 October, according to her husband. He said that after not hearing from her for several hours he had alerted police.
Her body was found two days later, partly burnt and covered by branches in a forest far from her usual jogging route. A source close to the investigation told AFP news agency there were no preliminary indications she had been raped but a post mortem examination had found she had been strangled.
The murder inspired a march of 10,000 people in the quiet town of Gray in Haute-Saône.
Women also honoured the jogger with symbolic runs in cities across France.
For months, investigators did not have any suspects in the case. Her husband was the last witness to see his wife.
The computer technician, speaking alongside Mrs Daval's parents, gave a tearful speech to thousands of people on the streets a week after the murder.
In the initial hearing, he spoke as a simple witness, admitting he had argued with his wife the day before her disappearance. That altercation explained, according to him, scratches and bite marks visible on his hands.
At the end of November, Mr Daval's lawyer cautioned against the "toxic rumours" spreading online, pointing the finger at his client.
The prosecutor in the case would only confirm Mr Daval's detention as part of the inquiry into the murder of his wife. She told AFP she would hold a press conference after any formal arrest.