France mourns star chef Paul Bocuse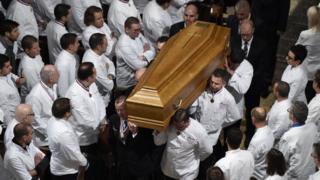 The crème de la crème of French chefs filled Lyon cathedral in their white jackets for the funeral of Paul Bocuse, known as the "pope" of French cuisine.
Bocuse became an ambassador for French cuisine, with a food empire that spread from France to restaurants in New York, Orlando and Tokyo.
The chefs in St Jean Cathedral included Alain Ducasse - whom Bocuse considered his protégé - and Joël Robuchon.
Bocuse died in his famous restaurant near Lyon, aged 91, on Saturday.
He rose to fame in the 1970s as a proponent of "nouvelle cuisine", a healthier form of cooking. It swept away traditional dishes served with rich and heavy sauces, instead focusing on super-fresh ingredients.
His restaurant near Lyon - L'Auberge du Pont de Collonges - has had three Michelin stars since 1965.
About 1,000 people attended the ceremony in St Jean Cathedral, while outside a crowd of mourners watched it on a big screen at the entrance.
The Bocuse food empire includes the Culinary Institute of America at Hyde Park, in New York state; a restaurant complex at Disneyworld in Orlando, Florida; and eight restaurants in Japan.