Ireland to lift Good Friday alcohol ban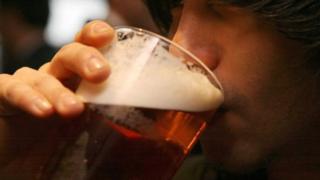 Pubs will be allowed to sell alcohol on Good Friday in the Republic of Ireland after the Irish parliament voted in favour of new legislation.
Alcohol prohibition on the Easter holiday has been in place for 90 years.
The amendment to the Intoxicating Liquor Act is expected to be signed off by President Michael D Higgins and in place for Good Friday this year.
Government minister David Stanton said the move would be a boost for Irish tourism.
"Tourism makes a much greater contribution to our economy and this is particularly true during holidays, such as the busy Easter period," he told the Dáil.
However, some parliament members opposed the law change.
'Progressive step'
Independent TD (Irish member of parliament) Maureen O'Sullivan said the bill went against the government's policy of trying to reduce the harm caused by alcohol.
"Are we saying that the only tourists we want are those who can't last 24 hours without buying a drink in a public house." she said.
"With this bill what message are we sending out? I actually think we could do with a few Good Fridays throughout the year."
Last year, the amendment to change the law was passed in the Seanad Éireann (Irish senate).
The amendment was introduced by independent Senator Billy Lawless, who said the passage of the legislation was "a progressive step" towards "a separation of church and state".
The Republic is not the only country with restrictive laws around the sale of alcohol over Easter.
In Northern Ireland, pubs must comply with restricted opening hours from the Thursday before Easter until Easter Sunday.