Spain targets pop star Shakira in tax inquiry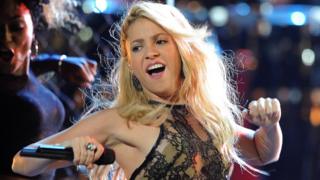 Spanish tax authorities say Colombian pop superstar Shakira owes income tax for 2011-2014, arguing that she was resident in Spain then.
They have asked Spanish prosecutors to open a tax evasion case against the singer, whose fortune is reckoned to be more than $200m (£176m).
The tax bill could be tens of millions of euros, Spanish media report.
Sources close to Shakira deny that there was any tax evasion and say she was outside Spain most of that time.
The sources - not named - said Shakira had always complied with her tax obligations.
The global superstar - also famous for philanthropic work - is the partner of FC Barcelona footballer Gerard Piqué. In 2015 she declared Spain to be her place of residence for all purposes.
The tax officials are seeking four years of unpaid taxes from all her global income - not just income generated in Spain.
You might also like:
Spain's Efe news agency said Shakira's auditors, PriceWaterhouseCoopers, had confirmed the tax investigation.
People who spend more than six months a year in Spain are considered residents for tax purposes.
In recent years Spain has seen several high-profile court cases involving football stars accused of tax-dodging.
Last May a 21-month jail term was confirmed for Barcelona and Argentina footballer Lionel Messi. However, Spanish law allows terms of under two years to be treated as probation, and Messi is still playing.