French 'MeToo' creator Sandra Muller 'sued for defamation'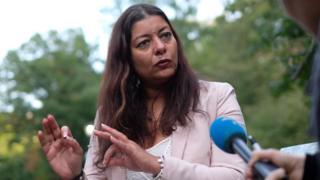 Sandra Muller, the creator of the French equivalent of the "MeToo" movement, says she is being sued for defamation by a man she accused of sexual harassment.
Ms Muller accused former television boss Eric Brion of making a sexually inappropriate advance toward her.
She created #balancetonporc, or "rat on your pig", which has been used to share stories thousands of times.
Mr Brion admitted making a comment, but said he only did so once.
In a piece for French newspaper Le Monde in December, he apologised for making the crude remark, but said there was a need for "truth and nuance" amid the wave of accusations.
He said his actions had little in common with accusations levelled at figures such as Hollywood producer Harvey Weinstein, who is facing dozens of allegations of sexual harassment and assault.
Mr Brion described the "machine" Ms Muller launched with her tweets as "unstoppable", and alleged that he had been subject to serious professional and personal repercussions because of it.
He has not yet commented publicly on the alleged defamation case.
Ms Muller used Facebook to announce she is being taken to court.
She alleges he is claiming 50,000 euros (£44,000) in damages for defamation, plus legal costs.
"I will go to the end of this fight with the help of my lawyer and I hope that this trial will be an opportunity for a real debate on how to combat sexual harassment," she said in her Facebook post.
Ms Muller was one of the "silence breakers" who were honoured by Time magazine as their 2017 Person of the Year for coming forward about allegations of harassment or assault.
But the "rat on your pig" movement she created has faced a backlash and created a national debate around what constitutes harassment.
Earlier this month high-profile French actress Catherine Deneuve was one of 100 women who signed an open letter claiming the movement had gone too far. It warned of a new type of "Puritanism" and insisted men should be "free to hit on women".
"Men have been punished summarily, forced out of their jobs when all they did was touch someone's knee or try to steal a kiss," it said.
"Rape is a crime, but trying to seduce someone, even persistently or clumsily, is not - and nor is men being gentlemanly a chauvinist attack."
Ms Deneuve later apologised to victims of sexual assault over the letter, after activists claimed it trivialised sexual violence.
On Thursday, Veteran French actress Brigitte Bardot became the latest high-profile celebrity to speak out against the movement, denouncing women in the "vast majority of cases" as "hypocritical, ridiculous" and "uninteresting".