Shane MacGowan celebrates 60th birthday at Dublin bash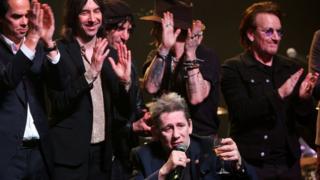 The man behind hits like The Fairytale Of New York and Rainy Night in Soho was celebrated at a sell-out concert on Monday evening.
The Pogues frontman Shane MacGowan turned 60 on Christmas Day.
He was honoured with a lifetime achievement award at the bash in Dublin's National Concert Hall.
Singers Bono and Nick Cave, actor Johnny Depp and Irish President Michael D Higgins were among the guests at the star-studded event.
MacGowan has experienced health problems in recent times and has had well documented problems with drugs and alcohol.
Despite his ill-health, he was brought on the stage in his wheelchair where he joined Cave for a duet before performing a solo version of Will Ye Go Lassie Go.
Other musicians, including Sinead O'Connor, Imelda May and Glen Hansard, all performed at the event, which also saw a duet between Bono and Depp.
The actor joined the U2 lead singer for a rendition of The Pogues' A Rainy Night In Soho, while Cave and MacGowan sung Summer In Siam.
---
At the show: BBC arts correspondent David Sillito
For anyone wanting to warn people about the effects of a life of drink and drugs then the sight of a frail, slurred, wheelchair bound Shane MacGowan at the end of 60th birthday concert in his honour is all you need.
As his friend, the writer, Irvine Welsh says: "Shane is 60 years old. Say it again: Shane MacGowan is 60. Whatever is he still doing here."
However, the presence alongside him on stage of Bono, Johnny Depp, Sinead O'Connor, Nick Cave, Carl Barat, Bobby Gillespie, Clem Burke, Glen Matlock and the President of Ireland Michael D Higgins was proof enough of the power of his song writing.
The Pogues were formed in London more than 35 years ago.
This anarchic melding of Irish folk with punk only worked because of Shane MacGowan's ability to create songs that still sound fresh 4 decades on.
Fellow Pogue, Spider Stacy said it was an unexpected talent that had utterly 'blindsided' them.
Shane and Spider had first met at a Ramones gig in London in 1977. Shane MacGowan was in those days Shane O'Hooligan, a punk with his own fanzine, Bondage.
Fans had flown in from across the world for this birthday party at Dublin's National Concert Hall.
Tickets sold out in under 30 minutes. And it was only until the final few minutes of the concert that they finally got a glimpse of the man they had come to see.
He looked frail, but he was still able to perform a final two songs as the crowd burst in to a chorus of Happy Birthday.
As Irvine Welsh says: "The reassuring presence continues.
"If you walk in somewhere - bar, party, green room - and the first thing you hear is that sniggering laugh, which sounds like Dick Dastardly's sidekick, Mutley, on crystal meth, you know you are in for quite a night."
---
Welsh singer Cerys Matthews was amongst those performing. When the Pogues reformed in 2005 they invited her to join them on stage.
Over ten years later she was back on stage.
She said there was another side to MacGowan that was not often discussed.
"Did you know he won a literature scholarship when he was in primary school and got into Westminster School in London? You don't hear about that side of him so much.
"I've just been listening to the soundtrack this afternoon and there is this weight to the time which has passed, it stirs the emotions so I'm just stood there and the tears are coming," she said.
"Life is a hell of a thing," she added.
In a statement promoting the event, The Pogues said: "From A Pair Of Brown Eyes to Fairytale In New York, Shane MacGowan is widely recognised as a poet of modern music and one of the great international songwriters.