French retailers sold baby milk despite possible Salmonella contamination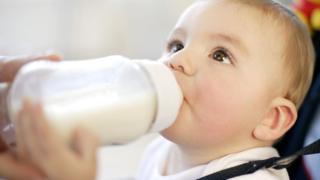 France's finance minister has threatened to levy sanctions after major supermarkets admitted selling possibly contaminated baby milk.
Retailers Carrefour and Leclerc have admitted selling products from the dairy group Lactalis that were supposed to be recalled over a Salmonella scare.
The Systeme-U, Auchan, and Casino retail giants also sold the products.
Finance Minister Bruno Le Maire described the lapse as "unacceptable behaviour, which should be punished".
At a news conference in Rome, President Emmanuel Macron also called for those responsible to be punished, and insisted that France was able to ensure food security.
Lactalis, one of the world's largest producers of dairy products, issued a recall in December of all products made at its factory in Craon in north-west France, after discovering salmonella bacteria at the site.
The recall covers a range of powdered milk marketed globally under the Milumel, Picot and Celi brands, and affects products shipped outside of France.
Carrefour said on Wednesday it had sold 434 boxes of baby milk that should have been withdrawn and Systeme-U said it had sold 384 boxes.
Leclerc has admitted to selling 984 affected products and Auchan said it had sold 52.
Hypermarket chain Casino, which also owns the Franprix and Geant franchises, said it had sold a total of 363 affected products.
"This is a major dysfunction in the withdrawal and recall by the operators, who bear responsibility," Agriculture Minister Stephane Travert told reporters.
He said the ban on Lactalis products from the factory would continue indefinitely, while the contamination was investigated.
The lapse came to light when about 35 infants fed Lactalis milk fell ill. Salmonella can cause severe diarrhoea, stomach cramps, vomiting, and severe dehydration.
A government report last week said food safety inspectors had failed to detect Salmonella during a routine inspection, three months before the recall.
Lactalis said the contamination was due to renovation work on the factory.
It is not the first time the baby milk formula industry has been affected by a health scare.
Six babies died and around 300,000 others fell ill in 2008 after Chinese manufacturers added the industrial chemical melamine to their infant milk powder products.