Ritz Paris robbery: Jewellery worth millions seized in armed heist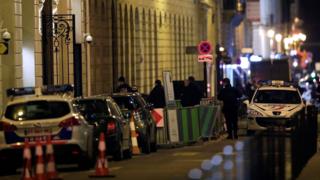 Armed robbers have seized millions of euros worth of merchandise from a jewellery shop at the famous Ritz Hotel in Paris.
Five men armed with axes smashed a window at the shop inside the hotel at about 18:00 local time (17:00 GMT), French media report.
Three men have been arrested, police said, while others remain on the run.
It is not clear whether any of the loot, estimated to be worth more than €4m (£3.5m), was recovered.
The luxurious five-star Ritz is located in Place Vendôme, in Paris' historical first district on the right bank of the river Seine. The ministry of justice lies next door.
The hotel includes a gallery shopping area near its rear entrance, which it says hosts five shops and 95 "showcases", selling jewellery, watches and luxury clothing.
Local newspaper Le Parisien, citing a police source, reports that the robbery was interrupted by an officer on patrol, but two people escaped on a motorised scooter.
The city's police commissioner issued a statement on Twitter thanking officers for their quick reactions, which led to the arrest of three men.
Interior Minister Gérard Collomb also offered praise, saying they were "a credit to our police".
Eyewitnesses reported a heavy police presence in the area.
One hotel employee told the AFP news agency: "We heard a loud noise and lots of racket in the street".
"Passers-by took refuge in the hotel. We didn't know what was going on until someone told us there had been a robbery."