Drogheda pub: Bomb found in toilet, say police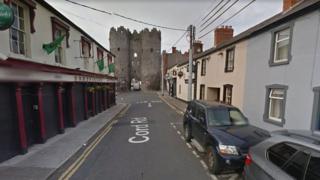 More than 30 people had to be moved from their homes after a bomb was found in a pub in County Louth on Tuesday night.
The device was found in a toilet in Sarsfields bar, Cord Road, in Drogheda at about 21:30 local time.
Part of the street was also cordoned off as a precaution.
An army bomb disposal team were on the scene before midnight and made the device safe. They left the scene at 01:05.
"Following an assessment of the device, it was made safe at the scene and removed for further examination in a secure military location, where it was found to be viable," an army spokesman said.
Residents were allowed back into their homes at about 01.30.