Paris kosher store destroyed by fire on attack anniversary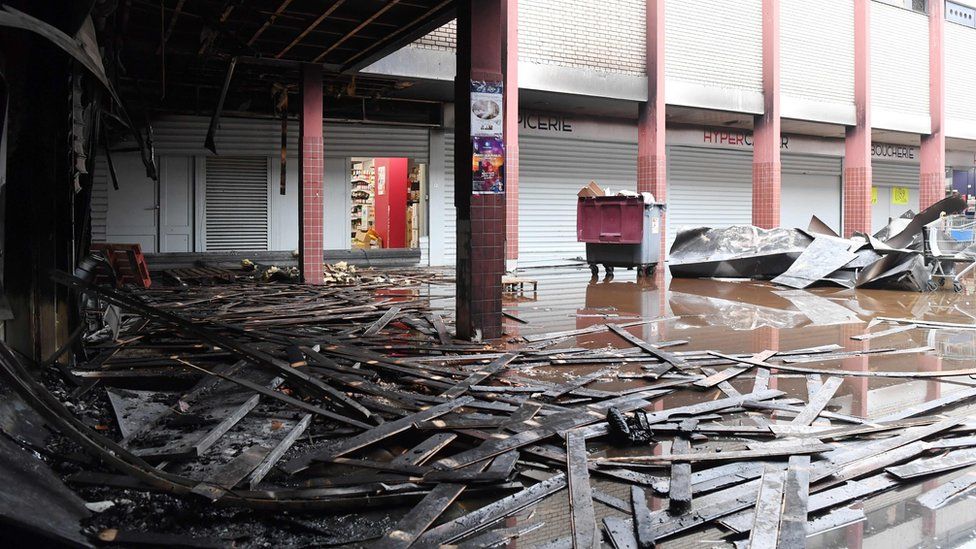 Officials in France are investigating a suspected arson attack on a kosher grocery store in a suburb of the capital, Paris.
The incident took place on the third anniversary of a deadly attack by an Islamist gunman on a kosher supermarket in Paris.
The burned grocery store was recently defaced with Nazi swastikas.
It comes amid fears among France's Jewish community about high levels of anti-Semitism.
The Promo & Destock store in the southern suburb of Créteil was completely destroyed by the fire in the early hours of Tuesday.
"The damage is believed to be very severe," prosecutor Laure Beccuau told AFP news agency, adding that investigators did not believe the fire was an accident.
France has Europe's largest Jewish community and Jews have been targeted in several attacks in Paris in recent years:
A Jewish family was taken hostage, beaten and robbed by a gang in Livry-Gargan in September. One of the attackers told the victims "you're Jews, so where's the money?", according to the family's lawyer
Sarah Halimi, a 65-year-old Orthodox Jew, was killed in her apartment by a Muslim neighbour in April, in the 11th arrondissement (district)
Two Jewish brothers were injured and racially abused in a street attack in Seine-Saint-Denis in February
In January 2015, an Islamist gunman killed three customers and an employee at the Hyper Cacher supermarket in Porte de Vincennes in the east of Paris, in the aftermath of the assault on the offices of the Charlie Hebdo magazine
In December 2014, three armed burglars broke into a Jewish home in Créteil and tied up a young man and his girlfriend, whom they raped
A gang kidnapped and tortured Ilan Halimi, 23, in January 2006, then left him to die near Sainte-Geneviève-des-Bois station. Gang leader Youssouf Fofana was given life imprisonment in 2009