German war graves found at construction site in Estonia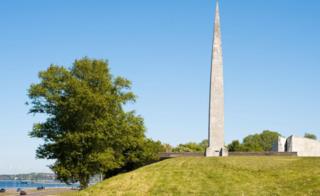 The remains of some 100 German soldiers have been found during excavation works for the construction of a memorial in Estonia's capital Tallinn.
The site is believed to be part of a German military cemetery from World War Two. Experts say the bodies were buried separately and not in a mass grave.
Archaeologists will remove the remains which will be reburied at a nearby German military cemetery.
The new memorial is being dedicated to victims of communism.
Between 3,000 and 4,000 German soldiers and officers were buried in the area during World War Two, said Peep Reisser, counsellor at the Estonian War Museum, which is overseeing the construction.
"Probably it's just the corner of the old cemetery so we can't say if more remains will be found," he told the BBC.
Work at the site of the discovery has been interrupted and archaeologists will search the area.
Some 30,000 German soldiers and officers - who fought Soviet soldiers - were buried in Estonia during World War Two (1939 to 1945), Mr Reisser said.
In 1995, Estonia and Germany signed an agreement allowing Germany to restore and maintain German war graves and cemeteries, Estonian website ERR reports. There are now 12 such cemeteries.