Russia supermarket bombing: St Petersburg man charged with terrorism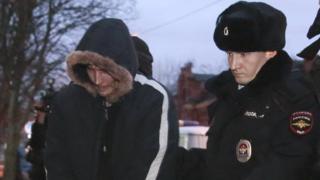 Russian authorities have charged a St Petersburg man with terrorism over the bombing of a supermarket in the city that wounded 18 people.
The suspect has been identified as Dmitry Lukyanenko, 35, who had had psychiatric treatment, Russia's Investigative Committee (SK) says.
He is reported to be a member of a nationalist group.
So-called Islamic State (IS) previously claimed it was behind the attack, but provided no evidence.
The 27 December bomb at the Perekrestok supermarket had been hidden in a locker used by shoppers, near the checkout, and the explosives were equivalent to 200g (7oz) of TNT.
Eight of the wounded are still in hospital.
Russia's RT news website says it caused major damage to the entrance area, shattering a glass door and bringing down part of a ceiling. People 500m away (1,640ft) heard the blast.
The SK says Dmitry Lukyanenko has been registered at a psychiatric clinic since the age of 19.
He has confessed to the crime and will remain in custody for at least two months, Russian media report.
He is to have psychiatric tests to determine whether or not he is sane.
Evidence in a sausage
My Lukyanenko cited as his motive "hatred towards the organisers and followers of the psychological training sessions" he had attended as his motive.
"It is a psychic sect - they were torturing me," he was quoted as saying. "I made this bomb and left two USB drives in order to tell people about them."
One of the drives was found hidden in a sausage on one of the supermarket shelves, Russia's Komsomolskaya Pravda daily reports. The SK says it has DNA evidence linking him to it.
Instructions for the homemade bomb were reportedly stored on that drive.
A security source in St Petersburg, quoted by Tass news agency, said the suspect had had "an anti-social lifestyle".
The supermarket bombing comes just six months before Russia hosts the Fifa World Cup, including matches in St Petersburg.
In December, Russian President Vladimir Putin and his US counterpart Donald Trump spoke by phone after information provided by the CIA helped Russian security services foil an attack on the city's Kazan cathedral.
At the time, Russia's Interfax news agency reported that a group had been planning attacks at a number of sites. Several people were reportedly detained.
In April, an explosion on the St Petersburg metro system killed at least 13 people and injured more than 50 others.